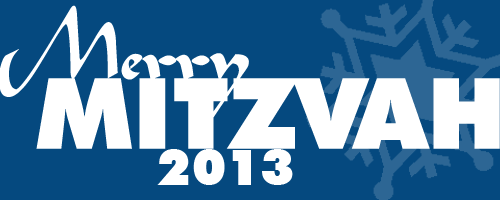 Merry Mitzvah projects start early this year
[by Shiela Steinman Wallace, Editor, Community]
The calendar may say it is only the end of October, but this year, that means Chanukah is right around the corner. The first candle is November 27, the night before Thanksgiving. And if Chanukah is so close, that must mean it is time for Merry Mitzvah 2013.
Co-chaired by Amy Benovitz and Rabbi David, this year's program offers a wide variety of mitzvah projects and lots of volunteers are need to meet the needs.
There are four Merry Mitzvah projects scheduled for November. "Hanukah Helpers," the Jewish Family & Career Services/Temple Shalom program to provide Chanukah gifts and winter clothing for children in need in the Jewish community, is already underway. Pick up your dreidel at Temple Shalom today. Each dreidel has a fictional name of a child, the child's real age and his/her real list of needs. You do the shopping and return the gifts to Temple Shalom by November 18.
Other Merry Mitzvah projects including cooking and baking for Ronald McDonald House, Wellspring and Volunteers of America and preparing and serving meals at the VOA shelter on November 17.
During November, The Temple is collecting supplies for the homeless including warm gloves, hats and underwear for adults and children; baby products and diapers; as well as toiletries, linens, parka-style coats for homeless men, new socks, uniforms and school supplies.
There are also many opportunities throughout the month of December to provide gifts and supplies, perform music, cook and bake, serve food and make parties. For a complete list of opportunities and information about who to contact for each, see ad, page 11. If no contact is listed, please contact Amy Benovitz, 425-0373.