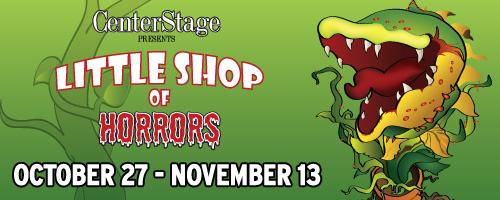 Killer plants are invading CenterStage. Little Shop of Horrors opens at CenterStage on October 27 and runs through November 13. In the newest CenterStage production, Seymour, a lonely florist, finds a mysterious plant but can't get it to grow… until he discovers its taste for blood.
This performance is a unique one for the 93-year-old theater. It is the first play in more than 10 years to feature puppets in a leading role. Nick Duett and Brian Bowles, both first time puppeteers, will control Audrey II, the carnivorous plant.
Duett started working with CenterStage in January after taking a 10-year break from the theater scene. He spent most of 2011 as a stage manager for CenterStage, this is his first time in a major role on stage. He says it has been exciting to literally climb into the role. "We only received the Audrey II puppet two weeks before the show started," says Duett. "Now that she is here, we have spent a lot of time working hard to get the movements down perfectly."
Duett and Bowles have to coordinate three different puppets, the largest weighing 100 pounds, with the voice of Rush Trowell, who is also in his first role with an acting company in Louisville. "The cast is amazing, especially Nick and Brian," says Trowell. "Rehearsals can be stressful but everyone has fun. We are excited to build towards the finished product."
"I didn't know Rush before this performance, but we immediately connected," says Duett. "We worked together to mesh the tempo and pace of his delivery and our movements. Everything has to be rehearsed but it has been a surprisingly easy task."
The show also features human actors including Chris Bryant (Seymour) and Lauren McCombs (Audrey). Bryant is in his fifth season at CenterStage, with roles in Chicago, Falsettos and Spelling Bee. Little Shop of Horrors will be McComb's first performance at CenterStage though she started acting when she was 13.
During the first several weeks of rehearsal, the actors were talking to a chair instead of Audrey II. "Now, when I look at the plant, I just see Rush sitting in the chair," says Bryant. "We spent several rehearsals just with the plant when it first arrived. It took about a week to get the blocking down right."
One of the show's strengths is a small cast – only 12 people. "It is much easier to develop a bond with cast members in a smaller show," says McCombs, "Everyone is very talented and it has been fun to keep up with the progress we are making."
The play is a great story with something for everyone. "Little Shop of Horrors is deeper than puppets and funny songs," says Bryant. "It is about a man who gets a taste of fame. But when things start heading down the wrong tracks, how far will he go to keep his fame alive? It is an ode to the classic 50's B movies."
Little Shop of Horrors opens at the Jewish Community Center on Thursday, October 27 with performances every Thursday, Saturday and Sunday until November 13. See the full schedule of showtimes here. Tickets cost $18 and can be purchased by calling 459-0660. As long as there are tickets available, there will be twenty $10 rush tickets available for weekday performances and must be purchased in person at the JCC Box Office.