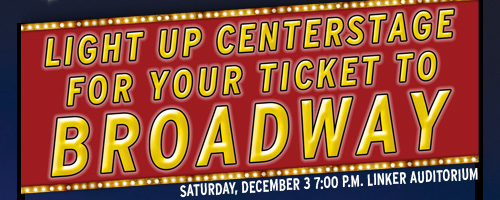 Are you ready for an elegant evening of fun – cocktails and hors d'oeuvres, silent and live auctions, a musical revue, scrumptious desserts – all for a good cause? Then make plans to attend the seventh annual Light Up CenterStage gala on Saturday, December 3, at 7 p.m. at the Jewish Community Center.
Traditionally, Light Up CenterStage has provided funding for this first-rate acting company to produce high-quality theater while keeping ticket prices affordable. This year, the gala will help CenterStage launch a new endeavor, CenterStage Acting Out, to bring theater into schools in the greater Louisville area.
Through this new endeavor, created by CenterStage Artistic Director John Leffert, CenterStage will offer schools the opportunity to bring a professional touring children's theater troupe in to perform high quality plays for their students.
"Arts are the first item to be cut when schools are having trouble," says Light Up CenterStage Chairwoman Sarah Harlan. "We hope to have enough money to help subsidize lower income schools who would otherwise not have the chance to see theater."
Acting Out's first play is "Alexander and the Terrible, Horrible, No Good, Very Bad Day," adapted from Judith Viorst's book. The troupe will not only perform in classrooms and assemblies, they will also provide suggested activities, lesson plans and study guides to teachers.
Acting Out already has a good start. The company received a $10,000 start-up Excellence Grant from Jewish Hospital HealthCare Services. The proceeds from Light Up CenterStage will ensure the success of this program in its first year and enable the troupe to reach more schools across the region.
Proceeds from Light Up CenterStage will help pay for professional actors, costumes, props and scenery for the production. Light Up CenterStage features complimentary cocktails, hors d'oeuvres and desserts. Silent and online auctions and raffles will offer amazing trips, tickets and packages.
The most sought after package will be an all-expenses paid trip to New York City, including round-trip airfare for two people, a two-night hotel stay, gift certificates to restaurants and spending money.
"We really tried to think outside the box for auction packages this year," said Harlan. "We are also offering a staycation at 21c and restaurant gift certificates."
Other items up for bid will include a walk-on role for a child in an upcoming performance of Beauty and the Beast, and an adult role in Ragtime. There is jewelry, season tickets to Broadway Across America and Summer Camp at the JCC available.
The highlight of the night is, as always, the original Broadway Style Review. The two-act show will feature the highlights of the music in next year's season.
Light Up CenterStage is Saturday, December 3 at 7 p.m. Tickets for this amazing night of theater, food and drinks only cost $90 per person and can be purchased by calling (502) 238-2763. There are still sponsorship opportunities available for as little as $50.