(Editor's note: Andrea Glazer of Louisville, who is competing for Team USA in the 20th Maccabiah Games in Israel, July 4-18, as an equestrian, will be blogging about her experiences from the Jewish state. She has agreed to share her posts with Community. You can also follow her at her blog site, usaequestrianglazer.wordpress.com.)
Slowly, I am realizing that I am overly confident in my non-existent ability to speak Hebrew.
Despite spending six years at a Jewish day school, I cannot understand 99 percent of Hebrew. I know how to sing all the prayers, say "I love horses," and that's about it.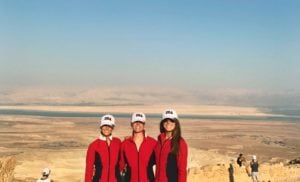 The other night at a bar in Tel Aviv, a boy around my age came up to me and said, "ma shlomech" (how are you)? Trying to think on the spot, knowing that I should know the proper response to such a short and easy question that I know I've heard a million times, I responded with the only Hebrew sentence I could think of off the top of my head. As soon as I opened my mouth, I knew I was about to embarrass myself. I answered with "Mah nishtanah halailah hazeh mikol haleilot?"
(That line is a famous prayer recited at Passover by the youngest child of the family.)
I sang the first line of the prayer as if I was leading my family in the seder. I thought that my pitch and pronunciation of the prayer was perfect, but I don't think the boy was as impressed as I was.
My teammates, being right next to me for the entire interaction, have put this down as one of the funniest moments of the trip so far. Lesson learned, I need to buy Rosetta Stone and not blurt out the first Hebrew sentence that comes into my head when talking to Israelis … or anyone for that matter.
On another note, today we climbed Masada and floated in the Dead Sea. It got up to 110 degrees and I didn't know if we would make it past the first 10 minutes of the tour. We survived, though, and were rewarded with an amazing meal with a Negev Bedouin tribe. It was such a fun day.
Apologies for the short post, I have been having too much fun to sit down and type!