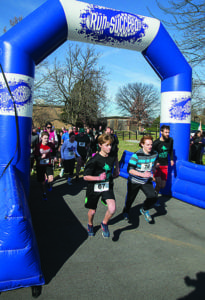 With many people starting to think about fitness in the New Year, The J is bringing back the second annual KentuckyOne Health Dreidel Dash 5K on Sunday, January 8 at 1:15 p.m.
"The race is a great way to test your fitness early in the year and make sure that you have the proper motivation to start the year right," said The J Wellness and Member Experience Director Tara Stone.
The Dash is a family-friendly race for runners of all ages, including strollers. It will be followed by an afterparty with games, music, Chanukah snacks and more.
This year's race starts in front of The J before turning on Dutchmans Lane and Taylorsville Road. The race will turn around at Keneseth Israel and finish back at The J. The top two male and female racers will receive prizes at the after party and all runners will receive a Dreidel, long sleeve-tech T-shirt, Dreidel, gelt and other goodies.
Registration is $30 per person before January 2, $25 for The J Members. Children 12 and under at $15. After January 1, rates increase by $5. Registration is available online at www.jewishlouisville.org/dreideldash or by calling the Wellness Desk at 502-238-2727.