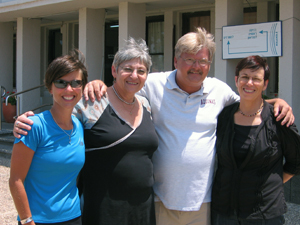 [by Shiela Steinman Wallace]
Shannon Kederis is a teacher at DuPont Manual High School with special responsibilities. Using the "The Exploring Civics: Facing History and Ourselves" curriculum, she teaches her students about tolerance and combating discrimination using lessons from the Holocaust. She also teaches a yearlong elective on the Holocaust, so Holocaust studies is the only subject she teaches.
The civics curriculum was implemented in most Jefferson County Public High Schools in fall 2009, and the Jewish Community of Louisville's Foundation for Planned Giving was among several groups that provided funding to train teachers to use it. "Facing History" offers teachers extensive resources and support to enable them to use the program effectively.
For Shannon Kederis, that is not enough. For many years, she has been a leading Holocaust educator in Louisville, and she is always eager to learn more and to find different and better ways to teach.
Last summer, following the same path that her colleagues Dan Penner and Keith Meador have, Kederis participated in the 2009 Holocaust and Jewish Resistance Teachers Program.
The program, sponsored by the American Association of Jewish Holocaust Survivors, the American Federation of Teachers and the Jewish Labor Committee, takes a select group of high school teachers to Poland for six days and to Israel for 10. Kederis' participation was made possible by a grant from the JCL's Foundation for Planned Giving.
Started by Vladka Meed in 1984, Kederis explained, "it was her vision that she would take teachers to Poland and Israel, not only to learn about her life," but about Jewish life in Poland both before and during World War II, "followed up with sections in Israel to see the end result, because a lot of ghetto fighters settled in Israel."
The program focused on "all types of resistance – armed and spiritual," Kederis said.
"I had been to Israel before, but never to Poland," she said. "I didn't know what to expect in Poland, and I was pleasantly surprised. I really enjoyed the time I spent there. It was beautiful and the people were so welcoming."
Although she has been studying and teaching the Holocaust for many years, Kederis said she learned a great deal on her trip and has been able to put her new knowledge to use in her classroom.
"I wasn't aware of the history of Jewish life in Poland before the war, the changes they went through during the war, and what life was like afterward," she stated. "I've been able to infuse that little bit of history into my teaching, even with the freshmen, so they can get a little bit of understanding of who these people were."
She also learned about Jewish community in Greece from a Greek survivor.
Adding the human element is important, Kederis believes. "It's really easy to get wrapped up in the numbers and statistics, and we forget about the human story. I've really tried to add those human stories – individual stories of survivors and people who didn't survive … especially the children's stories."
She further involves her students by having them research some of those stories. She also includes children's art, as well, "drawings or poetry that were created during and after the Holocaust." Many of her students are "artsy," she observed, "so they really latch onto stories, poems, artwork and diaries that kids created."
"I've added a whole new unit celebrating life," she continued. "It's all about people's stories. Our students have created a lot of art that helps them try to process what they learned." This makes it possible to understand the human element of the Holocaust. "These were people who went to school, had boyfriends and fought with their parents."
For Kederis, the trip also gave her the opportunity to learn from Holocaust scholars. "I couldn't write fast enough," she said, as the scholars at Yad Vashem, Israel's Holocaust Memorial Museum talked about "Nazi ideology to help us understand, from the perspective of the perpetrator, why they did what they did.
"We don't condone what they did," she stated, "but it helps to get into their heads" to understand how they could participate in this kind of inhumanity. Exploring "how the perpetrators saw it gives us different dimension."
While they were in Poland, the group visited five camps – Auschwitz/Birkenau, Treblinka, Belzac, Majdanek and Plaszow. "I don't know how to explain the experience. It was incredibly moving and emotional." Although it was a July day when they visited Majdanek, Kederis observed, "It was tornado weather with sideways rain. If it was that dark, ominous and cold in July, I can only imagine what people in January might have experienced. … It was overwhelming. … There are no words to define what you see and experience. It's a damp smell, the smell of flowers and musty barracks."
"I took many photos in each place," she said, and she has used them in her classes to help her students understand about the barracks, the huge size of Auschwitz/Birkenau and the smaller size of Majdanek. These photos and the personal feelings Kederis experiences when she shares them helps her communicate more effectively with her students.
As an added bonus, she now has an expanded network of resources on whom she can call for lesson ideas and information. This network includes the 32 colleagues who traveled with her and the program leaders and experts who worked with them.
"Just when you think you know a lot about a topic," she observed, "you do something like this and you see how much more there is to learn."
Kederis is thankful for the partnership she has with the Jewish Community of Louisville. She believes her students at Manual have benefited greatly, and "I couldn't have done many things without the support of the JCL. I'm very thankful.