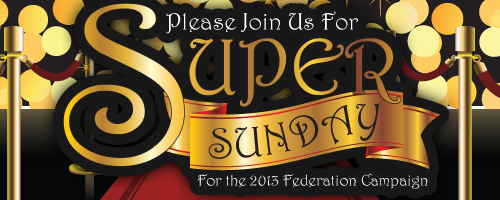 When you come to the Jewish Community Center on Sunday, February 17, and you look carefully, you might just see Tommy Lee Jones or Helen Hunt, Katniss Everdeen or Jean Valjean walking up the red carpet side by side with local celebrities like folksinger John Gage and newscaster Bryan Baker.
Well, maybe not the real Tommy Lee Jones or Helen Hunt – but some of your friends who have gotten into the spirit of Super Sunday's Pre-Oscar Party and donned costumes to come as their favorite movie star or character.
You're invited to be part of the fun.
Super Sunday is the annual telethon for the Federation Campaign, and calls will be made for the Campaign on February 17, but this will be a Super Sunday unlike any you may have experienced before.
"It will feel like a big party," said Super Sunday Chair Sarah Harlan. "I'm someone who hates asking people for money, but I'm excited about it this time, and it will be fun."
Unlike years past, volunteers will only be calling people who have given to the Campaign in the past. That means they will be talking with people who know what the Campaign is and support it.
"I've heard there might also be some performances by some CenterStage company members," Harlan said, "so people will be entertained."
And of course there will be plenty of good food.
"It will be fun," she added, "and people will leave feeling good about it – like they just went to a great social event or party."
So come join the stargazing – you never know whom you'll see.
Choose the shift that works best for you: 9:30 a.m.-12 p.m. or 1-3:30 p.m. The first half hour of each shift will be training so you'll know what to do when you make calls.
To volunteer for Super Sunday, please contact the Development Office, 238-2739 or mjtimmel@jewishlouisville.org.
Members of the Super Sunday Committee are Chair Sarah Harlan, Bryan Baker, Barbara Franklin and Kate Kastenbaum.
[by Shiela Steinman Wallace]