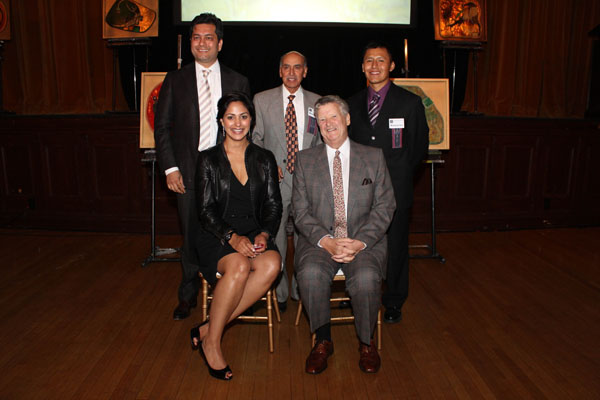 [by Shiela Steinman Wallace]
From the moment people walked in the door for this year's Jewish Family & Career Services MOSAIC Awards, it was obvious that something was different this year. In the past, people made a beeline for the second floor of the Henry Clay for cocktails and socializing.
While those options were still available this year, many people chose to linger on the first floor to meet the group of microentrepreneurs who had set up tables to showcase their businesses, displaying some of their wares. These people all run their own small businesses and have received help from JFCS's Navigate Enterprise Center.
Through this program, low-income individuals learn the skills they need to run businesses and escape the cycle of poverty. Through its micro-lending program and partnerships with other lenders, Navigate also helps aspiring entrepreneurs access the capital that will enable them to achieve their business goals.
When the crowd migrated upstairs, they were treated to the elegant affair that has become the tradition of the MOSAIC Awards.
The MOSAIC Awards were created to honor immigrants who have found success in their adopted country and made a difference in the world through their efforts. They also serve as a reminder that JFCS was founded to help resettle immigrants in our community, a mission the agency continues today.
Furthering the theme presented in the lobby, a new award was introduced at this year's event. Papa Gueye was named Navigate Entrepreneur of the Year. Gueye, originally from Senegal, owns Millennium Market on Bardstown Road, where he sells a variety of African groceries.
He was one of the first trainees of the Navigate Enterprise Center, and he used it as a stepping stone to work toward his dreams. He recently completed his MBA from Sullivan University, has two employees who manage his store for him, and works on the IT Services Desk at Brown-Forman.
Gueye accepted his award and publicly thanked JFCS for all the help he received. He also said that Louisville is a welcoming city.
Another tradition at the MOSAIC Awards is Jewish Hospital HealthCare Services presents a scholarship to a deserving immigrant who is studying to pursue a career in health care. This year, JHHS Board Chair Louis Waterman presented the Jeff and Phyllis Osbourn Scholarship to Marie Marius.
A native of Haiti, Marius earned degrees in medicine and pharmacy in her birthland. Here in Louisville, she is enrolled in the nursing program at Spalding University. She also works as a medical assistant and interpreter. While she is studying here, she's also trying to feed her family back in Haiti. The scholarship will ease her struggle.
The first MOSAIC Award recipient, Israel Benitos, originally from Bolivia, seems never to stop doing for everyone around him. He sees the world as full of limitless possibilities and lives by the adage, "Never fear when Izzy's here."
He owns Benitos Group & Subrogation Analysis at Trover/Transpac Solutions and has been recognized for his work in the insurance industry. He's active in his church, is a volunteer soccer coach and always seems to be looking for more ways he can help others. Benitos feels blessed to have the ability, knowledge and energy to help.
When it was time to present a MOSAIC Award to Thomson Smillie, the retired director of the Kentucky Opera, who is known for encouraging young singers and striving to make opera accessible through innovations like supertitles, which now seem to be a ubiquitous part of any performance, the crowd was in for a treat. A talented group of singers who obviously had benefited from his ministrations, presented a musical tribute/spoof to the delight of all. Smillie is originally from Scotland.
Cedric Francois, an M.D. and Ph.D. from Belgium, is an entrepreneur who is constantly traveling. In fact, he was out of the country that night, and delivered his acceptance and gratitude in a video. This co-founder and CEO/president of Potentia Pharmaceuticals is actively developing new treatments for problems like macular degeneration and COPD (chronic obstructive pulmonary disease). He is also part of the team that has done hand and face transplants at Jewish Hospital.
"I love Louisville," he said, because when he came, he was offered opportunities he couldn't get anywhere else. "I've been here 12 years," he added, "and I hope to stay many more."
Dr. Mohammed Hussain was one of the first Pakistani immigrants to greater Louisville. A cardiologist, he chose to establish his practice in southern Indiana because people there didn't have access to the kind of care he provides. He is so committed to helping others that he has always treated any patient who needed his help without regard for his/her ability to pay.
Aware of the help he received when he came, Dr. Hussain has helped resettle immigrants from the Balkans and has sponsored two individuals. He also helped found the Islamic Cultural Center and supports Wayside Christian Mission.
Dr. Hussain, who publicly shared the honor with his wife of 44 years, thanked JFCS for the honor and said he is blessed to be living in a free country.
The final MOSAIC Award was presented to a couple, Rishabh and Lopa Mehrotra, who are immigrants from India. Both are entrepreneurs. He is president of SHPS, a world-class provider of health management and benefits solutions; and she is founder and CEO of TestToob, an online international learning community. Both have made Business First's Top 40 under 40 list and are involved in numerous other activities.
In the video about their accomplishments, each spoke about the other in such glowing terms and with such admiration that it was obvious that they are deeply in love and each serves as the other's loudest cheerleader. He is always creating new businesses. By the time he was 24, he had already started three or four. She engages in science with compassion.
Both expressed gratitude for the recognition.
The MOSAIC Awards themselves are unique pieces of art. This year's awards were crafted by Jesenko Kurbasic and Peter K. Eischhorn.
JFCS's MOSAIC Awards were sponsored by Jewish Hospital HealthCare Services, WLKY, Papercone and Bonnie Bizer. WLKY's Rick van Hoose was the master of ceremonies and Rabbi Robert Slosberg of Adath Jeshurun offered the invocation.
{gallery}Community/052512/MOSAIC{/gallery}