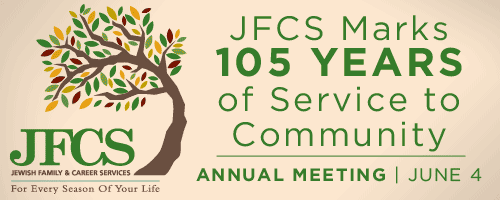 JEWISH FAMILY & CAREER SERVICES will celebrate its 105th anniversary on June 4, at 7:30 pm at JFCS. Board president, Debbie Friedman, will preside over the meeting and share some of her thoughts on her first year in office.
Mark Ament, chair of the Board governance committee, will announce the proposed slate of board members and officers. They include:
Nominees to be re-elected for three-year terms: Billy Altman, Laura Klein, Larry Kass, and Sean Wachsman. Nominees for first term of three years: Carlyn Altman, Ed Cohen, Janet Hodes, Diane Tobin and Stephi Wolff.
Nominees to serve as officers/at-large members of the executive committee: president, Debbie Friedman; vice presidents, Sandi Friedson and Stephanie Mutchnick; treasurer, Marty Margulis; immediate past president, Mark Ament; at-large members: Jay Klempner, Marc Charnas and Peter Resnik.
Three members will be leaving the Board: Hunt Schuster, Lance Gilbert and Shelley Breier.
The Annual Meeting will include a presentation by Louis Waterman, chairman of the Board of the Jewish Heritage Fund for Excellence. This fund is providing opportunities for JFCS to innovate and create new programming to better serve its clients and the Jewish community.
JFCS appreciates the vital services that volunteers give to the agency and its clients. Eleven volunteers received Presidential Volunteer Services awards this year, and they will be recognized at the meeting:
Silver: Linda Goodman and Carole Goldberg.
Bronze: Bonnie Bloom, Doug Harper, Frankie Bloom, Jan Glaubinger, Lisa Rothstein-Goldberg, Sidney Katz, Sue LaSalle, Tami Penner and Sue Ament.
It has been five years since the agency's 100th anniversary celebration. Jay Klempner will be recognized for leading the organization's "For Generations to Come" endowment campaign, and updates will be given on its success and growth.
The annual meeting provides the opportunity to thank the JFCS staff for their efforts and the excellent services they provide. This year, a special presentation will be made to Marilyn Bornstein, who is retiring from JFCS after 22 years. In addition, the Mary Gunther Award for best program of the year will be awarded.
Please join the Board and the staff of JFCS in celebrating the agency's 105th year of service to this community. Desserts will be served after the meeting.