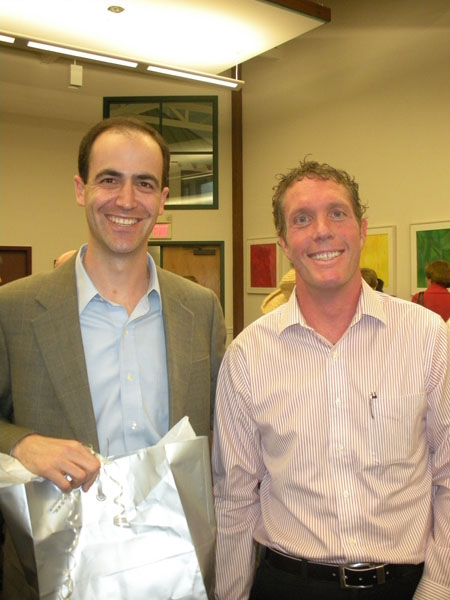 [by Shiela Steinman Wallace]
Jewish Family and Career Services celebrated 103 years of service to the Jewish community and to Louisville at its Annual Meeting on Tuesday, May 24, at the Louis and Lee Roth Family Center.
In her invocation, Cantor Sharon Hordes, chair of the Board of Rabbis and Cantors, compared JFCS to a pillar of fire, lighting the way for abused women and new Americans.
Maggie Elder, the vice president of community investment for Metro United Way called JFCS a valued partner and Executive Director Judy Freundlich Tiell a "real treasure as a colleague."
David Klein, Board chair of the Jewish Community of Louisville, thanked JFCS for all they do in both the Jewish community and the Louisville community and for another year of strong leadership and support.
In her report, Tiell noted that JFCS faces many of the same challenges other non-profits face. "We have seen an increase in people seeking our services who have need and a decrease in the resources to meet those needs.
Many of the people who utilize our services have no resources to pay fees so our typical sliding fee scale has slid lower."
In the face of these challenges, JFCS' staff, Board and volunteers have been resourceful and made the most of what they have, increasing the services they offer to better meet community needs.
Tiell highlighted some of her agency's services, including the HOP program, which was showcased in detail later in the program, offers affordable homecare help for seniors, job training for people interested in working in the homecare field, and a partnership that helps trainees find jobs upon the completion of their studies.
Tiell also spoke about JFCS' micro-enterprise program and the creative ways the agency is working with the unemployed, often using volunteers to augment staff efforts, as well as the counseling programs that help families succeed and cope with the difficulties they encounter.
"JFCS is here," she said, "to serve the community, respect our clients and offer help no matter what level income, education, religion, or ethnic group you represent."
Tiell had high praise for JFCS' Board of Directors, the staff and the volunteers who work together effectively on behalf of the agency. She recognized Office Manager Sally Hollingsworth for five years of service to JFCS; Finance Director Stephanie Reese for 10 years; and Career and Workforce Development Services Administrative Assistant Janet Poole, Therapist Lauren Kehr, Therapist Marilyn Bornstein and Director of Family Services Mauri Malka for 20 years.
She also publicly recognized every other JFCS staff member. "On behalf of the more than 8500 people served at JFCS last year," she said, "we thank you for your involvement with the agency. Together, we make a difference, and continue to be the agency that is here, throughout every season of your life."
JFCS Case Manager Helen Hord serves as director of HOP (HomeCare Opportunities Program), which serves seniors homecare trainees and employers. To help those in attendance understand the program, she presented a panel reflecting all three aspects of HOP. Lillian Schwartz reported that HOP helps her with everyday tasks that have become more than she can manage. HOP helps her stay in her home.
Simonia Cooksey is a former trainee who completed the program. Before HOP, Cooksey worked in a fast food restaurant and cared for her grandmother, who suffered from dementia. She really enjoyed helping people and couldn't wait to get out of the fast food business. HOP gave her the training she needed and today, she works at Belmont Village.
The third panelist, Sheila Carter, is the executive director of Belmont Village. For her, HOP is a collaborative effort that means she has a reliable source for people who have the skills needed to care for the seniors at her facility, the passion to do the work well, and the ongoing mentoring to ensure that they can succeed.
Each year since 1993, JFCS also recognizes the best new or expanded program the agency offers and honors the staff person who created it with the Mary Gunther Award. This year, Doug Roemer reported that the award went to Jamie Goodpaster for the Job Development and Placement Capacity Building Program, which developed a number of creative ways to help job seekers find employment, and Shelley Kahn the Food Pantry Committee, which has made this resource self-sufficient and expanded its visibility in the community.
In his president's report, Mark Ament said that JFCS has faced more than its share of challenges this year. The economic recovery in Louisville is very slow, it if exists at all, but JFCS has stretched its resources, met the challenges and kept the doors open.
He praised the staff for its innovations and for developing new partnerships. He highlighted the Gateway Project, which is a collaborative project with eight other Jewish family agencies around the country that uses upgraded technology and "new tools for career search and access to a healthcare career platform on line and enhanced relationships with many education and healthcare organizations in the region."
He also mentioned the Assets for Independence savings program that helps low income people save money for school, a house or a small business, and with the help of some federal government matching funds, they begin to build assets and achieve financial independence. And JFCS' Senior Concierge Homecare services provides high quality non-medical homecare for seniors.
In addition, Ament reported the agency has just purchased a handicap-accessible van, has increased its fund-raising efforts, including attracting 300 people to the MOSAIC Awards the preceding week, securing endowment funding for the Shabbat Friends program from Carole Snyder and Sara Yamin in honor of Doris and Theodore Meyers, and running successful pancake breakfasts and a concert with Louisville orchestra musicians to fund the Food Pantry.
Jay Klempner, chair of the Nominating Committee, presented its report. Bruce Belman, Shellie Benovitz, Marc Charnas and Ayala Golding were elected for three-year terms. Sheilah Abramson Miles and Janet Meyer were re-elected for three year terms. Mark Ament will continue as President. Debbie Friedman and Sandi Friedson will continue as vice presidents, and Stephanie Mutchnik was elected as a new vice president. Hunt Schuster will continue as treasurer.
Marsha Beck Roth, Brian Segal and Reed Weinberg retired from the Board.
Other members of the Nominating Committee were Mark Ament, Lance Gilbert, Debbie Friedman, Sandi Friedson, Peter Resnik, Barbara Goldberg and Reed Weinberg.
{gallery}Community/2011/060311/JFCSAnnualMeeting{/gallery}