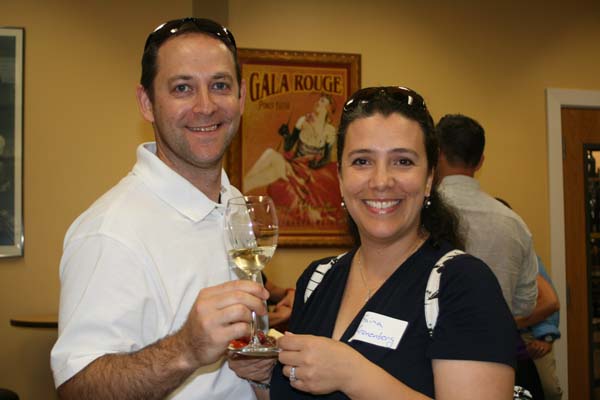 [by Phyllis Shaikun]
It used to be that the only thing to come to mind when the terms "kosher" and "wine" were mentioned in the same breath was the overly sweet grape wine associated with Passover and other Jewish holidays. Where it satisfied the need, kosher wine was never thought of in terms of a beverage of choice to accompany a gourmet feast – until recently.
The availability of high-quality kosher wine has never been better, as can be attested to by those who attended the Jewish Community of Louisville's (JCL) Mix & Mingle "tasting" event on Saturday, June 19, at Westport Whiskey & Wine. Owner Chris Vaborowski was on hand to offer samples of seven different kosher vintages and provide information about their production, specific characteristics and which foods they would best complement. He also offered a discount on wines purchased during the evening.
This highly successful event, which was co-chaired by Shellie Branson and Salli Coleman, was just the first in a series of programs being developed as a result of the JCL's Program Review Committee's recommendations. That committee identified social programming for adults as a gap that needs to be addressed. With this program as a launching pad, a committee is being formed to develop additional events for this group.
Information about future programs will be included in Community and online here. For additional information, contact Kim Hales, khales@jccoflouisville.org or 238-2777.
{gallery}Community/2010/062510/Winetasting_Event{/gallery}