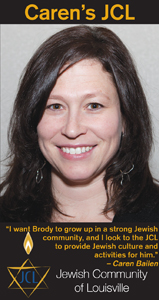 Caren Carney Bailen grew up in Louisville, and the Jewish community has always been part of her life. She attended Eliahu Academy, was a member of Amitie BBG and her family belonged to Congregation Adath Jeshurun.
After graduating from Atherton, she earned a BS in broadcast journalism from the University of Illinois, Urbana Champaign. During college, she was a member of the Jewish sorority Sigma Delta Tau.
After college, she lived in Cincinnati for eight years before returning to Louisville.
Her husband, Michael, is also a Louisvillian who grew up at AJ. Although only a year separates them, their paths never crossed when they were young.
Caren met Michael's mother at Milestone Fitness. At the time, Michael was living in New York. At his mother's urging, they made contact by e-mail, and met when he came home for Thanksgiving in 2005. He returned to Louisville in July, 2006, and they were married the following January.
Today, the Bailens have made Louisville their home and they want the same kind of strong Jewish community they knew for their 2-1/2-year-old son, Brody. They're members of AJ; Brody attends the AJ Preschool; and Caren is on the AJ Preschool Board.
The Bailens enjoy participating in events where they can socialize with other Jewish families with young children like the Jewish Community of Louisville's YAD picnic.
They also participate in JCL's The PJ Library. "Brody loves The PJ Library," Caren said. When he picks a story to read at bedtime, it's often one he received through the program. "They're his favorite books," she said.
She appreciates the resources available through the JCL. "I hope to pass on to Brody all the Jewish values my parents passed on to me, and I look to the JCL to help me do that."
Caren works with the family business, where she oversees sales and marketing for Hawthorn Suites. She also enjoys being a mother, treasures the time the family has together, and proudly carries on the tradition of family Shabbat dinners every Friday night at her father's house as she has done her entire life.