[By Linda Morel] [Photo thanks to JTA]
NEW YORK (JTA) — I start Passover food shopping by buying six dozen eggs, but it's never enough. Inevitably I return to the store at least twice, purchasing two or three more cartons of eggs each time.
Matzah garners most of the attention in Passover fare because of the unleavened bread's prominent role in the Exodus story. Eggs, however, are the unsung heroes, working behind the scenes, enhancing nearly every recipe consumed during the holiday's eight days.
Without fanfare, eggs perform the binding and heavy lifting usually accomplished by flour, the silky powder ground from cereal grains that are forbidden during Passover.
With great prowess, eggs hold together the ingredients that go into Passover kugels, matzah brie and matzah farfel casseroles.
When egg whites are whipped to a frenzy with electric beaters, they increase in volume six to eight times, lending structure and leavening to many baked goods. Egg whites singlehandedly add loft to cakes and other pastries, encouraging them to rise without a boost from the usual sources — flour and baking soda.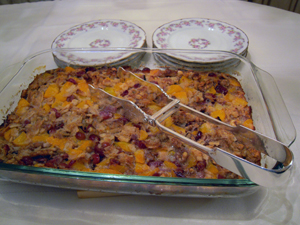 Eggs play a pivotal role during seders. Spherical and white, they symbolize the rebirth that occurs in the spring. Every seder plate reserves a place to display a roasted egg to remind us of the burnt offerings, the daily roasted sacrifices in the Temple. These sacrifices can no longer be offered because the Temple was destroyed centuries ago.
In addition, the roasted egg on the seder plate is a symbol of the new life the Jewish people acquired in attaining their freedom from Egyptian bondage.
During seder ceremonies all over the world, Jews consume an egg course. Ashkenazim partake in eggs that have been hard boiled and chilled. During the seder they pour heavily salted water over the eggs, a symbol of the tears shed by our ancestors during slavery.
As a child, I looked forward each spring to the taste of hard-boiled eggs in a salty bath. When I was 12, I prepared the combination for lunch one day during October. But as I took a bite of boiled egg doused in salty water, it tasted so terrible I couldn't eat it. I was crushed by the disappointment and concluded at that young age that you have to wait for Passover to appreciate this special dish resonating with so much history.
During Passover, many Sephardim eat an egg dish called Huevos Haminados in Spanish, or oven eggs. The recipe is prepared by layering eggs among onion skins and coffee grinds in a pot of water. The mixture is then warmed in the oven on a low temperature for many hours. This slow cooking method not only gives egg yolks a satiny texture, but also turns their shells a splendid brown color, reminiscent of roasted eggs.
Many Huevos Haminados recipes suggest saving the skins from the onions used in Passover cooking. However, I find that method does not produce a large enough yield. In preparation for making Huevos Haminados, I go from supermarket to supermarket collecting skins from bins of onions. The skins of red onions lend the most gorgeous color.
Every spring my husband worries that I will be accused of shoplifting for this practice. So far, cashiers have given me nothing more than strange looks when I point out a bag full of onion skins.
While Passover is perhaps the most cherished of Jewish holidays, for many people the sheer volume of eggs used in recipes poses health issues, specifically regarding the amount of cholesterol consumed. There are several ways to be health conscious while observing the egg's role during seders.
The yolk is the culprit, containing all the egg's cholesterol and fat (about 5 grams in a large egg). With only about 20 calories, the egg white consists of water and slightly more than half the egg's protein.
For the seder's egg course, I recommend preparing large eggs. Ironically, large eggs are the smallest size available commercially, followed by extra large and jumbo.
Another way to cut down on cholesterol is to slice hard-boiled eggs in half, thus limiting portion size. For those who want to get fancy, place a tiny dollop of caviar on each half. Cover the halves with plastic wrap before serving, so the yolks don't dry out.
For a cholesterol-free egg course, serve egg white omelets. I suggest stirring some chopped parsley into the beaten egg whites to give them spring color. This also adds the symbol of Passover greenery. Of course, egg white omelets can be served for breakfast, brunch or lunch throughout Passover.
When it comes to matzah casseroles made with vegetables or fruit, you can eliminate one or two of the egg yolks called for in recipes. Add an egg white for each yolk you discard.
Of course the highlight of any seder is a rich chocolate cake, made lofty and moist by a bevy of luscious eggs. If you're counting calories or cholesterol, dessert is the one place to splurge with an abundance of eggs. To balance a cake's opulence, serve it with fresh strawberries.
During Passover's eight days, I often return to the supermarket for additional ingredients. I end up making more macaroons, either coconut or chocolate almond; matzah brei, either mushroom or classic; Passover lasagna, with or without meat; or my signature dish, peach kugel. These recipes wouldn't exist without the most ubiquitous ingredient in all of Passover cooking — eggs.
---
HUEVOS HAMINADOS (Oven Eggs)
(Pareve)
Prepared entirely in the oven, these eggs turn sepia brown and are served at Sephardic seders as the egg course.
Equipment:
A 4-quart ovenproof pot that you don't care about, as it may get stained, or a deep ovenproof glass casserole of equal size.
Ingredients:
4 cups of tightly packed onion skins
12 eggs at room temperature
2 tablespoons coffee grinds
1 tablespoon cooking oil
1 tablespoon Balsamic vinegar
1 teaspoon salt
Preparation:
1. Preheat oven to 250 degrees.
2. Place half of the onion skins at the bottom of the pot or casserole. Nestle the eggs between the skins. Don't crowd them. Sprinkle coffee grinds over eggs. Add oil, vinegar and salt. Slowly pour enough water inside to submerge the mixture, about 2 or 3 quarts.
3. If using a pot, cover it with the lid. If using a casserole without a lid, cover it tightly with aluminum foil. Place eggs in the oven for 6-8 hours.
4. Remove pot carefully. Lift out eggs using a long-handled slotted spoon and place them temporarily on paper towels to drain off excess water. Eggs can be served hot or refrigerated for later. Yield: 12 servings
VEGETARIAN PASSOVER LASAGNA
(Pareve or Dairy)
Equipment:
2 (10-by-15-inch) ovenproof pans

Ingredients:
No-stick cooking spray
2 vegetable bouillon cubes
6 tablespoons olive oil, or more, if needed
2 large onions, sliced
Kosher salt to taste
Freshly ground black pepper to taste
9 pieces of commercially prepared matzah
2 zucchinis sliced into circles about 1/8-inch thick
6 garlic cloves, minced
2/3 cup Parmesan cheese, optional
1 pound of mushrooms, sliced
3 dried sage leaves, crushed
2 large pinches of dried rosemary needles
6 eggs
Juice from half a lemon
Preparation:
1. Coat 1 baking pan with cooking spray and reserve. In second baking pan, dissolve bouillon cubes in 3 cups of boiling water and reserve. Preheat oven to 350 degrees.
2. In a large skillet, heat 2 tablespoons of olive oil on a medium flame. Add onions and sprinkle with salt and pepper. Saute until onion slices wilt, about 5 minutes. Move onions to prepared pan and distribute evenly.
3. Submerge 3 squares of matzah into bouillon bath until barely softened. Gently lift matzah pieces one at a time. Cover onion layer with the first 2 pieces of matzah. Break the third piece in half to fill in the edges on one side. (Don't worry if matzah falls apart slightly. But if it completely disintegrates, soften additional pieces.)
4. To the skillet, add 2 tablespoons of olive oil. Add zucchini and half the garlic, sprinkling lightly with salt and pepper. Saute until wilted, about 5 minutes. Cover matzah layer with zucchini mixture. Sprinkle 1/3 cup of Parmesan cheese on top, if using.
5. Repeat Step 3 and cover zucchini layer with 3 pieces of matzah.
6. To the skillet, add 2 tablespoons of olive oil. Add mushrooms and remaining garlic, sprinkling lightly with salt and pepper, plus sage and rosemary. Saute until mushrooms wilt, about 5 minutes. Cover second matzah layer with mushroom mixture. Sprinkle 1/3 cup Parmesan cheese on top, if using.
7. Repeat Step 3 and cover mushroom layer with 3 pieces of matzah.
8. In a large mixing bowl, beat eggs until foamy. Add lemon juice and 1 cup of bouillon and beat again. Pour egg mixture over the top of the lasagna. With a spatula, press down on the lasagna to even out liquids. Bake until lasagna is firmly set and bubbles at the edges, about 45 minutes. Recipe can be served immediately or made 2 days ahead, refrigerated, and reheated. Recipe freezes well. Yield: 24 squares
PASSOVER PEACH KUGEL
(Pareve or Dairy)
Ingredients:
No-stick vegetable spray
2 cups apple juice
2/3 cup dried cherries
2 (15-ounce) cans sliced peaches
No-stick vegetable spray
3 pieces of matzah, broken into 1-inch squares
6 eggs
Zest and juice from half a lemon
2/3 cup sugar
1/4 teaspoon salt
1/2 teaspoon cinnamon
1/8 teaspoon nutmeg
2/3 cup chopped walnuts
4 tablespoons margarine or butter, melted
Preparation:
1. Coat a 9-by-13-inch ovenproof baking pan with no-stick spray. Preheat oven to 350 degrees.
2. In a small pot, heat 1 cup of apple juice to a simmer. Remove from flame. Stir in dried cherries and soak them while assembling remaining ingredients.
3. Place a colander over a large bowl. Drain the peaches, reserving the liquid from the can in the bowl. Dice peaches.
4. In a medium-sized pot, heat the remaining apple juice to a simmer. Remove from flame. Soak broken matzah squares in apple juice until soft, about 5 minutes. Using the colander, drain matzah and discard the juice. Reserve.
5. With an electric beater, whip eggs until frothy. Add lemon zest and juice, sugar and salt, and beat until well combined.
6. Drain the cherries and add them to the egg mixture, along with the peaches and walnuts. On a low speed, mix until incorporated. With a wooden spoon, add soaked matzah and gently stir until incorporated.
7. Move mixture to prepared pan and spread evenly. Pour 1/3 cup of the reserved peach juice evenly over the top. Drizzle the melted margarine or butter over the surface. Kugel will look quite liquid. Place kugel in the oven and bake for 45 minutes, or until edges brown and a tester inserted in the middle comes out clean. Serve immediately or cool to room temperature, cover with plastic wrap, and refrigerate for a day. Cut into squares before serving. Kugel tastes delicious with sour cream.
Yield: 18 squares
MOCHA PECAN TORTE
(Pareve)
Ingredients:
No-stick cooking spray
7 egg whites
1 cup pecans
1 cup semi-sweet chocolate bits
1 tablespoon instant espresso coffee
3/4 cup sugar
Preparation:
1. Preheat oven to 350 degrees. Coat a 9-inch springform baking pan with cooking spray.
2. In a large mixing bowl, beat egg whites until firm. Don't overbeat or whites will become watery. Reserve.
3. In a food processor, using a metal blade, grind pecans and chocolate bits until broken into small pieces. Mix in coffee and sugar until blended. Fold mixture into egg whites, and by hand gently stir with a spatula until well blended. Pour batter into prepared pan. Bake 40-45 minutes, or until cake tester inserted in the center comes out clean. Cool to room temperature and serve with sliced strawberries sprinkled with sugar and drops of lemon juice, or Coffee Whipped Cream (recipe below).
Yield: 10-12 slices
COFFEE WHIPPED CREAM
(Dairy)
Ingredients:
1 pint heavy cream
2 tablespoons sugar
1 tablespoon instant espresso coffee
Preparation:
Place the ingredients in a large mixing bowl and beat with an electric mixer until cream forms firm peaks. Stop machine every minute or so to avoid overbeating and turning the cream to butter. To check for firm peaks, lift beaters from mixture. Serve immediately.
SIDEBAR:
A good egg — safety and nutrition tips
1. Buy the freshest eggs possible by purchasing them before the sell-by date.
2. Before purchasing eggs, examine them for cracks to avoid bacteria from getting inside. Gently roll around each egg within the carton. If an egg won't budge, chances are the bottom is cracked and has leaked, gluing the shell in place.
3. Always purchase eggs from a refrigerated case. Avoid cartons at the front of the case because they have been exposed to warmer air each time the case was opened.
4. At home, refrigerate eggs immediately. It's preferable to store them in their cartons at the back of the refrigerator so they are not exposed to room temperature air every time the refrigerator is opened.
5. Refrigerate cooked eggs within an hour after preparation. They should be consumed within a week.
6. Although recipes abound for raw eggs, they are still considered unsafe to eat by many health experts who warm against salmonella poisoning.
7. To improve whipping ability, keep raw eggs at room temperature for 20 minutes (but no longer) before beating them.
8. When separating eggs, it's preferable to keep all traces of yolks from the whites so the whites can reach the maximum volume during beating. However, a speck of yolk will not ruin your chance of producing frothy egg whites.
9. Eggs are easiest to separate when cold. While egg separators, available wherever kitchenware is sold and at many supermarkets, keep yolks from whites, they take longer than the old-fashioned method of pouring whites into a bowl.
10. The stringy stuff inside an egg anchors the yolk in the center of the white. It is not an imperfection or a beginning embryo. The more prominent the stringy stuff, the fresher the egg. It does not interfere with cooking or the beating of an egg white.
11. Eggs with a visible blood spot on the yolk are safe for consumption. These tiny red spots are caused by the rupture of a blood vessel during the egg's formation. While in the past, the consumption of eggs with blood spots was forbidden by the laws of kashrut, because these spots were the beginning of an embryo, modern production methods have improved and this is no longer the case. Blood spots found in commercially produced eggs today do not present any fundamental problems for kosher consumers. However, many followers of kashrut continue to discard eggs with blood spots.
12. Organic eggs are produced by hens fed with certified grains, minus most conventional pesticides and fertilizers. Growth hormones and antibiotics are prohibited. Organic eggs are more expensive than regular eggs because it costs farmers more to allow their hens to roam outside of cages and to give them organic feed. However, organic eggs have the same nutritional content, fat and cholesterol as regular eggs.
13. Brown eggs are equally as nutritious as white eggs. The color of the shell is determined by the breed of hen.
14. Make sure your refrigerator is 40 degrees. If the temperature is colder, eggs may freeze. Eggs that have been frozen should be discarded as they don't perform well in cooking. If the temperature is warmer than 40, your eggs will not last as long as they would in a colder environment.
15. When properly stored, eggs rarely spoil. However, as an egg ages, the white becomes thinner, the yolk gets flatter and the yolk membrane weakens. Although these changes affect appearance, they don't indicate spoilage and don't greatly affect the nutritional value of the egg or its ability to perform in recipes. Before spoiling, an old egg is more likely to dry up. But like all organic matter, eggs can go bad. Telltale signs are a sour or fruity odor and a blue-green color. If in doubt, discard a suspicious egg. It's not worth the risk of getting sick.