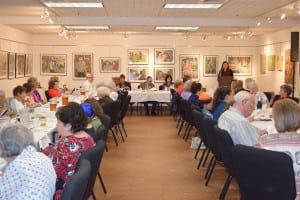 Dozens of seniors and children gathered around tables embellished in white linens, matzah and more in The J's Patio Gallery to celebrate Passover on Wednesday, April 20, during the 2016 Senior Model Seder.
Together, the children and senior adults dipped parsley in salt water and broke matzah as Cantor Sharon Hordes, of Keneseth Israel, explained the symbolism of each food item for Passover. Senior Adult Director Diane Sadle said that including children in the senior Seder each year reminds the seniors of the times when they celebrated with their children.
"The children add vitality to the program and they can participate because they're learning about it in school. Seniors love it because many of their family members don't live in town and it may be the only Seder they get to participate in all year," Sadle said.
Despite the mix of the children's higher-pitched voices with those of the more alto senior's, Hordes unified each voice in prayer, creating a beautiful celebration and feast.
"Ok everyone, you're going to all recline in your seats and lean to the left when you eat the matzah," Hordes said.
The wide-eyed children giggled and reclined and one said, "Why are we doing this?"
"Why, because we are free people!' Hordes exclaimed. "Only free people had the luxury of reclining and eating back in ancient times."
While the seniors and children were all relaxing and eating, Sadle said, "It's rewarding to watch this isn't? To watch the seniors interact like this with the children?"
"It reminds them of their grandchildren or great-grandchildren who maybe don't live here," Sadle said. For some, it reminds them of their childhood.
The J has hosted the Senior Model Seder for more than 20 years, and in 2010, it was one senior's dying wish to ensure the program always happened. Judith Bensinger loved gathering at the inter-generational Seder each year. After her death, Bensinger's family decided to sponsor the program every year in her memory.
Sadle said The J wouldn't be able to host the program without the Bensingers' support.
"It's so very important we continue this tradition. To bring our seniors the tradition they may not have at home anymore and to help them remember the good times," Sadle said.