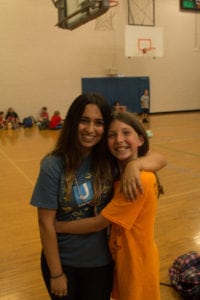 As the last day of Camp J camp drew to a close on August 11, 2017, campers gathered and viewed a sideshow of images from throughout the summer. Smiling faces on the screen told stories of summer field trips, festivities, friendships and fun.
Camp Director and Former Early Learning Center Assistant Director Mindye Mannel reflected on a great camp season.
"Being new to the upper camp program was very exciting, and I enjoyed every minute of it and hope the children did too," Mannel said. "We went on exciting field trips, had cool visitors come to camp and had many memorable moments each and every day."
Camp parent and Camp Committee Member Lauren Hasselbacher shared this sentiment.
"My boys had the best summer ever," Hasselbacher said. "Camp was amazing this year. The offerings were wonderful and diverse. Camp was well-organized and seemed to run very smoothly."
Some of Camp J 2017's diverse offerings included: an overnight at the Louisville Zoo, a field trip to Holiday World, a visit from a Tae Kwon Do instructor, an on-campus Cooking Camp, a class with an Israeli Dance instructor, a visit from the portable planetarium and more. Campers were also able to learn about Israel first hand from schlichot, Tomi Levinson and Lior Sulami, who introduced them to Israeli culture. New experiences may thrill campers, but the everyday activities are what keep many staff, families and campers coming back.
"My favorite part of camp was our daily morning circle," Mannel said. "The excitement on the campers' faces to see their friends and counselors was heartwarming. The campers were always excited to sing along to our usual morning camp songs and morning rituals."

Camp parent and Camp Committee Chair Erica Brady shared Mannel's affection for the day-to-day of Camp J.
"Camp J has become my son's second summer home," Brady said. "He spends the whole school year counting down to summer camp. The entire staff is loving and welcoming. He knows he is accepted for who he is, and he is encouraged to let his personality shine all summer."
This encouragement of campers will not end with the summer, as the Youth Department at The J will continue to offer activities and classes throughout the school year.
"It was sad to say goodbye to all the campers on the last day, but we know we will see them again soon at School's Out Days, Winter and Spring Mini Camps, and Parent's Nights Out," said Mannel.
As snapshots of summer settle into memories, the staff at The J has already begun planning the next exciting events for campers and families in the community.