[by Shiela Steinman Wallace]
When the Jewish Community of Louisville's Women's Philanthropy Division booked Mayim Bialik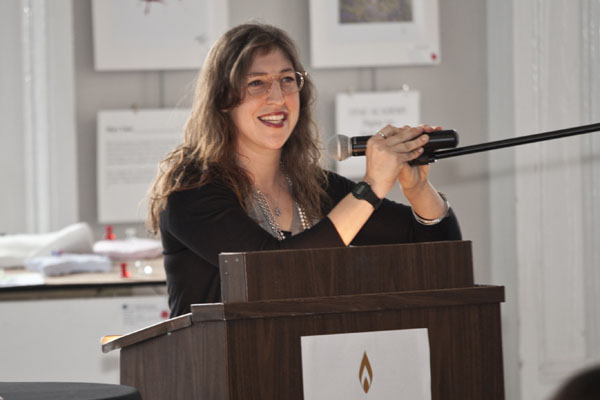 for Big Bang Wednesday, there was excitement in the community about the actress who is a regular on "The Big Bang Theory" and was the star of "Blossom" was coming.
What the 123 women who came to the Annual Campaign thank-you event at the Water Tower on May 11 found was a smart, funny, easy-to-talk-to, down-to-earth committed Jewish mother, who just happened to have a job acting on TV shows.
Bialik started by answering everyone's first question: How did you get into show business?
At age 11, she expressed an interest in acting. Her parents sent a letter to a number of children's agents. When several responded, Bialik picked one, started going to auditions and got the role of the young Bette Middler in Beaches, which premiered the weekend of Bialik's bat mitzvah.


In 1990, at age 14, she landed the title role in Blossom, so she had her own show until 1994. She also got to do a television movie with Woody Allen.
Bialik's family history parallels that of many other Jews in the United States. Three of her four grandparents immigrated to this country from Eastern Europe. They had lost many family members during the Holocaust, and Bialik described them as broken people who never got over their losses. Her mother grew up in poverty, and both parents left home and married young to escape.
She described her parents as Jewish Bohemian artists and film-makers who disdained organized religion, but belonged to a Reform congregation and celebrated Chanukah and Passover. "I didn't even know that bar mitzvahs were on Shabbat," she quipped – only that they were on Saturdays.
Bialik herself felt very Jewish. She liked Hebrew School, was serious about her bat mitzvah studies and continued through confirmation.
"I also went to Jewish camp," she said. Since her family didn't have the money to send her, she got help from the Jewish Federation. "The Federation kept me Jewish," she insisted, "and I found myself." (The Jewish Community of Louisville provides Federation and Jewish Community Center services here and is affiliated with the Jewish Federations of North America.)
Growing up on the set of "Blossom" meant that Bialik didn't attend regular school. Instead she had a series of tutors who worked with her around the production schedule. She thrived in this situation, and today, in addition to her acting career, she is a scientist.
One of her tutors, an Iranian Jewish woman who today is a dental surgeon, tutored her in biology and "inspired me to love science."
When "Blossom" ended, Bialik went to college and craved a normal life. She went to Hillel, began to experience a social life and began studying with a rabbi. She met her husband there, and they began to study together.
Although her major was neuroscience, and she earned her Ph.D. in that field, she also completed a minor in Jewish studies, explored Jewish rituals and gradually became more observant.
While still in school, she married and had her children. She said she edited her thesis while nursing her firstborn and got pregnant with her second when she filed her doctoral thesis.
Bialik described her acting career as the job that puts bread on the table and is flexible enough to allow her to do the other things she wants to do. She enjoys performing and making people laugh, but it is not fulfilling spiritually. For spiritual fulfillment, she turns to family, home and living a Jewish life.
She and her family are part of a home schooling community, and they work hard to make a nurturing, Jewish home.
At the beginning, Bialik said she had come to speak about raising Jewish children, so she identified four principles for raising children.
First, she recognizes that families are complex and that conflicts sometimes arise. Jewish tradition tackles conflict head on, so we must deal with it rather than run from it.
Second, she identifies routine as important for children, and Judaism gives life a routine rhythm. The holidays define the year and Shabbat defines the week.
hird, she tries to infuse joy into her life and find fun things to do with the children. Through Jewish cooking, family celebrations of holidays and their pride in the state of Israel, she conveys strong Jewish identities to her children.
Fourth is developing the character traits she wants her children to have. She wants the to feel a sense of respect, to be polite and generous, loving and honest, humble, but not self-effacing. To accomplish this, they learn from the Torah portion each week and include the children in their traditions. "We treat them like they matter, and they are treated respectfully."
Before Bialik spoke, Marsha Roth thanked the women present for their support of the Jewish Community of Louisville Annual Campaign. Over the past five years, she said, the women of Louisville gave $3 million dollars to the Campaign, and every gift at every level helps the community.
Roth identified a number of community programs that are supported by the Campaign, including Shalom Baby, which now has 43 babies enrolled; The PJ Library, which provides Jewish books, CDs and programs for 300 preschoolers and elementary school children; a revitalized JCC summer camp program; scholarships for Jewish overnight camps; a middle school program that has engaged more than 60 adolescents; BBYO; Kesher Kentucky; and Hillel.
Campaign dollars, she continued also support the Jewish Family & Career Service Meyer Food Pantry. "It's a shame that Jewish people go hungry," she said, "but we are doing something about it." Campaign dollars also go to Israel.
Joy Kaplan and Linda Schuster chaired the event, and members of the event committee were Julie Ensign, Debbie Hyman, Kat Johnson, Shannon Levine, Robin Miller, Marsha Roth, Beth Salamon, Mona Schramko, Kristin Shapira and Shane Shaps.
The event was sponsored by Hawthorn Suites, Heaven Hill Distilleries and Jewish Hospital HealthCare Services through a Louisville Jewish Community Excellence Grant. Heaven Hill donated the alcohol for the event and premiered Hpnotiq Harmonie, a new liqueur that has not yet reached the shelves in stores.
---
{gallery}Community/2011/052011/BigBangWednesday{/gallery}