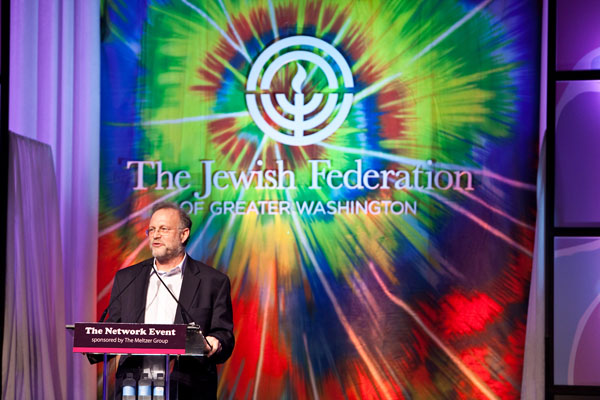 [by Suzanne Kurtz]
WASHINGTON, November 22, 2012 (JTA) – A scoop of Ben & Jerry's may taste like heaven, and for company co-founder Jerry Greenfield, the business of making ice cream has a spiritual side as well.
"There is a spiritual aspect to business, just as there is to people," Greenfield told a crowd of 300 last week at a networking event for the Jewish Federation of Greater Washington.
The ice cream company known for its colorful pint-size containers, funky flavors and creative marketing has implemented smart business practices that have advanced its bottom line as well as its do-good corporate culture.
Raised on suburban New York's Long Island, Greenfield, 60, and his longtime friend and business partner Ben Cohen met in gym class in junior high school after discovering a shared dislike of running track. They were chubby kids who always enjoyed eating, Greenfield said, and both attended Hebrew school and had their bar mitzvahs at the Reform Congregation of Merrick.
Though a self-described "cultural Jew," Greenfield said that his religious education helped sensitize him to discrimination, marginalization and the needs of "other people in society and around the world."
In his mid-20s, after being rejected from some 20 medical schools and not content with working as a lab technician, Greenfield split a $5 Pennsylvania State University correspondence course in ice cream-making with Cohen and embarked on a new business venture.
In 1978, with $12,000 scraped together from loans and savings, they opened Ben & Jerry's Homemade, Inc. in a renovated gas station in Burlington, VT. Their single storefront venture would grow eventually into a $300 million global ice cream empire owned by the Unilever Corp.
Neither Greenfield nor Cohen is still active in the day-to-day running of the company. Instead, Greenfield said, his present role with Ben & Jerry's holds "no responsibility and no authority," joking that it should be a position that those attending the federation event also strive for in their careers.
But their vision for an ice cream company that would be both profitable and care about the needs of society has left a lasting impact on both employees and customers.
"Simply operating this way had so many benefits for the company," said Greenfield, as he detailed some of the values-driven business practices that also saw him and Cohen named U.S. Small Business Persons of the Year in 1988.
One oft-cited example of Ben & Jerry's socially conscience business practices is its purchase of $8 million annually of chocolate brownies baked at the Greyston Bakery in Yonkers, NY, a nonprofit that offers job training and hires workers who might have a difficult time finding jobs elsewhere, such as ex-convicts, former substance abusers and welfare recipients.
"We came up with this popular flavor [for using the brownies] and the bakery is pretty happy with it, too!" said Greenfield.
In 1984, when the company needed to raise additional capital to grow the business, they let their Vermont neighbors "get a scoop of the action" by holding an in-state public offering.
"People of essentially any economic situation could participate," said Greenfield, and one in every 100 Vermont families became shareholders in the company. "As the business supported the community, the community supported the business."
In 1985, the company made a public stock offering and also established the Ben & Jerry's Foundation. It began donating 7.5 percent of pretax profits to nonprofit organizations – the highest percentage of any publicly traded company at the time, he said.
"As you give, you receive," Greenfield said. "As you help others, you are helped in return."
He added, "And just because the idea that the good that you do comes back to you is written in the Bible and not in some business textbook doesn't mean that it is any less valid."