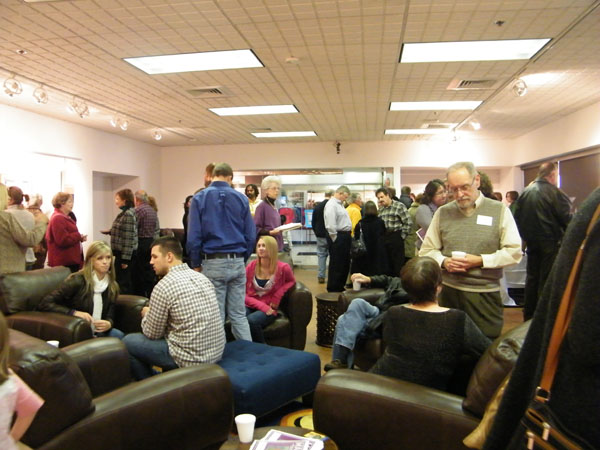 [by Phyllis Shaikun]
This year's Mazin Annual Art Exhibition at the Jewish Community Center, jurored by Louisville artist Ed Hamilton, attracted a crowd of several hundred people at its opening reception on Sunday, December 11. The event proved once again that this tri-state show is carrying out Bernice Mazin's dream of providing a legacy of beauty for the entire community.
"My mother simply wanted artists to be recognized and rewarded for their work," said her daughter, Marilyn Mazin Miller. "She is still alive and is 93 years old. We say she was born with a crayon in her mouth since she began painting as a child. She won a college scholarship and continued painting china even after she was married. She also continued to receive awards for her efforts.
"Mom's work was about peace and beauty," Miller muses. Being an artist is in her soul – even now. She is all about the visual and is blessed with a gift. She was determined to paint and for a while maintained a studio with three other women. After that she painted at home."
Mazin's husband, Ben, was her patron. They had considered starting an art exhibition together, but never had the chance. After he died, she figured she would start one herself and become a patron to other artists. She established the Benjamin and Bernice Mazin Visual Arts Second Century Fund endowment in 1999 that allowed for the creation of the exhibit, which has been conducted since that time.
"It began as a biennial event," Miller explained, "but it became so successful it morphed into a very popular annual happening that is actually self-supporting." The 2011 exhibit ran from December 4 through January 10.
Sue Huttenlocher, who has taught art classes at the JCC for many years, was one of Mazin's students. She assumed teaching duties when Mazin retired.
Miller, who grew up in Louisville and lives in Westchester County, NY, is one of Bernice's three daughters. The other two are Judy Hummel of Louisville and Helaine David of Uniontown, PA.
If you would like to make a contribution to the Mazin Visual Arts Fund or to any of the other Jewish Foundation of Louisville endowments, please contact Matt Goldberg (mgoldberg@jewishlouisville.org) or call 238-2707.
{gallery}Community/2012/012712/Mazin{/gallery}