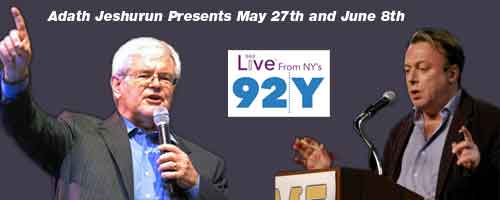 Thanks to the miracles of modern technology, the Adath Jeshurun Vision Committee is pleased to announce the following special LIVE from NY's 92nd Street Y ™ events:
Newt Gingrich in Conversation with Jeff Greenfield, Thursday May 27, 2010 at 8 p.m.
Christopher Hitchens in Conversation with Salman Rushdie, June 8, 2010, 8 p.m.
As a thank you for all the support the Live From 92Y programming has received from AJ this year the Vision Committee is pleased to present the two final 92Y presentations of the Spring session free to the community.
Each program will be broadcast live via satellite from the 92nd Street Y in New York and will be an interactive experience; attendees will have the chance, during the live event, to submit questions to the speakers via email. All events will be held at Adath Jeshurun, 2401 Woodbourne Avenue.
The Vision Committee is charged with imagining the possibilities that AJ can be and then finding ways to translate those ideas into realities. One of its first ideas was to use technology to expand programming at AJ and to support life-long learning. The LIVE from NY's 92nd Street Y ™ YTMs supports that vision. You can find detailed biographies of the speakers at www.92y.org/live.
To purchase tickets or sponsorships, please contact the shul office: 458‑5359.