The 16th Annual Louisville Jewish Film Festival strives to show the richness and diversity of the Jewish experience by presenting the best contemporary international films. Through feature films, shorts, documentaries and student films, as well as conversations with guest speakers, the festival explores Jewish identity with the hope of increasing tolerance and educating its audiences. Some of the films we have shown have gone on to be nominated for Academy Awards and remade into Hollywood films. Many of them have received Israel's highest awards for films. Since our beginning over 100 outstanding films have been shown at a variety of venues accompanied by exciting speakers and receptions.
Prices: $8.50 in advance, $10 at the door, $6 student unless otherwise stated. On the day of the show, tickets will be available 1 hour prior to the film at the venue. Tickets to all films are available online at jewishlouisville.org/filmfestival, by phone at 502-459-0660 or in person at the JCC (3600 Dutchmans Lane).

Bethlehem
Opening Night, Saturday February 8, 7:30 p.m.
Village 8 Threatres
Awards: 6 Ophir awards, including Best Feature Film, at Jerusalem Film Festival; nominee for best foreign film at the Academy Awards; first place at Venice Film Festival
This film depicts the relationship between Razi, an Israeli Secret Service officer and Sanfur, his 17 year old Palestinian informant. Razi cares about Sanfur, but manipulates him to get information about his militant brother's deputy, Badawi. This same relationship with Sanfur is mirrored by Badawi. A series of events forces the teenager to eventually choose sides.
Israel, 99 minutes
When Comedy Went to School and Mark Klein – Special Event
Sunday February 9, 3 p.m.
Adath Jeshurun Synagogue | $15 in advance, $18 at the door
Why are there so many Jewish comedians? The festival presents an afternoon of comedy starting with a documentary (in English) on the origins of stand-up comedy in the Catskill Mountains. Popping- up telling jokes and stories are: Mel Brooks, Jerry Lewis, Sid Caesar, Jackie Mason, Mort Sahl, Jerry Stiller, Larry King, Woody Allen, Jerry Seinfeld and others.
USA, 77 minutes
Mark Klein, a well-known national comedian and member of our community will regale us with stories and jokes following the film.
Dessert, coffee and conversation top off a fun afternoon.
Wunderkinder
Tuesday February 11, 7 p.m.
Village 8 Theatres
Awards: Jerusalem Film Festival, Copenhagen International Film Festival, and many Audience Awards from Jewish Film Festivals.
Three musically gifted children develop deep friendships while living in Poltava, Ukraine, in 1941. Although different religions, nationalities and social classes, the children find they have much in common. When the war reaches their town, they are forced to use their talent and friendship to survive.
Germany, 100 minutes
The Attack
Saturday February 15, 7:30 p.m.
Village 8 Theatres
Awards: Spanish and Moroccan Film Festivals.
Based on a popular novel, this thriller is about an Arab doctor living in Israel whose wife is killed in an explosion. He desperately pursues an investigation to determine if she was involved in the planning of the bombing. His emotional and physical journey takes him from Jerusalem to the Palestinian territories in search of answers. This film, a unique cooperation between Israelis, Palestinians and Lebanese, was written and directed by a Lebanese filmmaker who shot the film in Israel with Israeli actors.
Arabic and Hebrew, 102 minutes
Purchase Tickets | View Trailer
Fill the Void
Sunday February 16, 2 p.m.
Village 8 Theatres
Awards: Best Feature Film and 6 other Ophir awards at Jerusalem Film Festival
Eighteen–year-old Shira is thrilled that the marriage arranged for her within her Orthodox Jewish community is with a boy she likes. But when her sister dies in childbirth, Shira's hopes for her future are thrown into turmoil by her grieving mother.
Israel, 90 minutes
Purchase Tickets | View Trailer
Ma'ale Films by the Ma'ale School of Television, Film and Arts in Jerusalem
Monday February 17, 7 p.m.
The Temple | Free Admission
Films sponsored by the Temple.
Reception sponsored by Louisville Jewish Film Festival.
Israel, approximately 60 minutes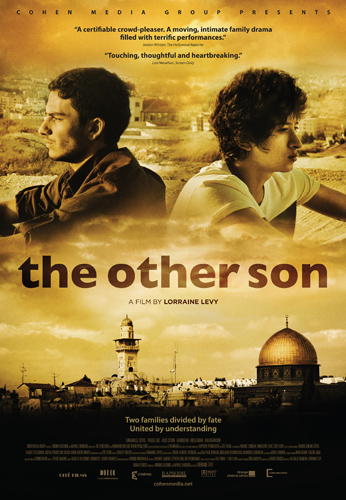 The Other Son
Wednesday February 19, 7 p.m.
Village 8 Theatres
A moving and provocative tale of two young men, one Israeli and one Palestinian, who discover they were switched at birth during the Gulf War, and the complex repercussions facing them and their respective families.
France, 105 minutes
Aftermath
Saturday February 22, 7:30 p.m.
Village 8 Theatres
Aftermath is the story of 2 brothers who dare to investigate the secret murder of Jews in a small Polish village in 1941. When Franek returns from USA to his village he finds his brother is hated by the neighbors, and together they discover a terrifying secret. Based on true events, Aftermath is considered one of the most controversial and important films made in Poland, and one of the best foreign films of the year. Contains violent scenes.
Poland, 107 minutes
Sonny Boy
Sunday February 23, 1:30 p.m.
Muhammed Ali Center | Free Admission
Call for a ticket to assure admittance. Feel free to view the museum prior to the film for $2! This epic Dutch film, based on a true story and best- selling novel, follows a young man from Dutch Guiana who boards a ship to the Netherlands in search of an education. He finds love with Rika, a white woman twice his age, and they have a son. Through difficult years the mixed race couple fights to survive and life becomes more dangerous when sheltering Jews during the 1040's in Nazi-occupied Netherlands.
The Netherlands, 132 minutes
Film Festival Sponsors:
Adath Jeshururn
Bonnie Bizer
Lois Kohn-Caar & Gary Caar
The Ann and Coleman Friedman Jewish Education Fund
Jewish Heritage Fund for Excellence
LEO Weekly
Robert I. Lerman Family Fund
The Lewis Levy Film and Theatre Arts Fund
Muhammad Ali Center
Rosa Gladstein Fund
The Temple Brotherhood
Donate to the Film Festival Today! Just be sure to select "Jewish Film Fest" from the drop down menu.
$500-$999 EXECUTIVE PRODUCER: Receive twelve film tickets of your choice, including 2 to the opening and closing events, and name listing in Festival Program
$250-$499 PRODUCER: Receive six film tickets of your choice, including 2 to the opening and closing events, and name listing in Festival Program
$118-$249 DIRECTOR: Receive four film tickets, not including opening and closing events, and name listing in Festival Program
$36-$117 ACTOR: Name listing in Festival Program