An old comedian once said, "Comedy is music; it has rhythm and a melody." An expert like Roy Blount, Jr. knows this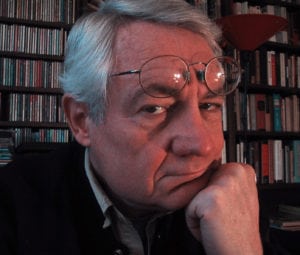 very well. His prose can sing in deft comic riffs. Louisvillians will be fortunate to experience Blount's lyrical bounty of stories when he will be the first guest to present Contemporary Thought, at the Lillian O. Seligman Forum Series. Blount will speak at 7 p.m. on Tuesday, September 20, at the Temple.
Lillian Seligman was president of the Jewish Family & Career Services Board of Directors from 1994-1997, and throughout the years, she continued to have an active interest in the growth and services of JFCS.
Seligman loved to learn and to laugh. She had many interests that spanned many topics. Her family has created an endowment in her memory to offer an annual forum to the community to celebrate her love of learning and to provide interesting, entertaining programs, some on topics related to the kinds of services provided at JFCS. Seligman's family and friends are involved in the planning of this series.
"We are honored that Jerry Seligman and their daughters, Wendy Siskin and family and Leigh Segall and family, chose JFCS to be the recipient of an endowment in Lillian's name," said Judy Freundlich Tiell, JFCS Executive Director. "It's also a testament to Lillian's love of life that so many of her friends have made contributions in her name and are participating in organization of this series."
Roy Blount, Jr. is the author of 23 books, about everything from the first woman president of the United States to what barnyard animals are thinking. His most recent book is Save Room for Pie. He also is a panelist on NPR's Wait, Wait…Don't Tell Me. He comes from Decatur, GA, and divides his time between western Massachusetts, New York City and New Orleans.
Norman Mailer said of Blount's second book, Crackers, "Page for page, Roy Blount is as funny as anyone I've read in a long time," and Time placed Blount "in the tradition of the great curmudgeons like H.L. Mencken and W.C. Fields." Garrison Keillor said in The Paris Review, "Blount is the best. He can be literate, uncouth and soulful all in one sentence." Playboy said he was "known to the critics as our next Mark Twain."
A contributing writer of The Oxford American, he writes a regular column for Garden and Gun, and has done so in the past for Esquire, The New York Times, Atlanta Magazine, Inside Sports, The Soho News, Men's Journal, Conde Nast Traveller, The San Francisco Examiner, Spy and The Atlanta Journal.
His essays, articles, stories, verses and even drawings have appeared in 171 different periodicals including The New Yorker, Gourmet, Playboy, Vanity Fair, GQ, Life, TV Guide, Vogue, Rolling Stone, National Geographic, Antaeus, Smithsonian and Organic Gardening; and in 216 books, including The Best of Modern Humor, The Oxford Book of American Light Verse, The Norton Book of Light Verse, The Ultimate Baseball Book, Classic Southern Humor, Sudden Fiction, The Elvis Reader, Russell Baker's Book of American Humor, Baseball: A Literary Anthology, The Sophisticated Cat, The F-Word, and Best American Essays l997.
There will be a book signing and opportunity for photographs after the presentation. For tickets or to make a contribution to the endowment fund, please contact Beverly Bromley at 502-452-6341, ext. 223 or bbromley@jfcslouisville.org.