By Stephanie Smith
For Community
This is the third in a series of articles highlighting the stories behind the generous capital campaign donors who make up the Wall of Honor Tapestry of Giving at the Trager Family Jewish Community Center.
 When you raise over $43 million dollars for a new state-of-the-art facility like the Trager Family Jewish Community Center, it's a monumental feat made possible by generous donors, years of meticulous planning and hard work by all. When looking for a way to honor donors, the Trager Family JCC commissioned its architectural firm, GBBN, to create its Wall of Honor, a design that reflects the Kotel Western Wall, darker, triangular plaques at the bottom, much like the oldest section of the wall, built in 36 B.C.E. Lighter tiles comprise the next layer (8th century C.E.) with the smallest, lightest tiles at the top (13th century C.E.). Each layer is distinct from the others.
Along with acknowledgment on the Wall of Honor, the Roth siblings and their spouses came up with a unique way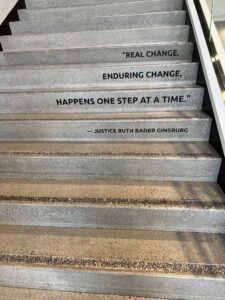 to honor their family's legacy of philanthropy with their Capital Campaign gift. This trio Dan and Evan Roth and their sister, Jessica Lasser, spent much of their childhood years sitting on the steps at the old JCC building waiting for their dad, Bruce Roth, to pick them up from various programs such as Hebrew School, BBYO events, among others. 
To honor their parents, Marcia and Bruce Roth, and their time growing up at the JCC, Dan, Evan and Jessica asked that this quote from Justice Ruth Bader Ginsburg, be affixed to the massive staircase in the new building because it exemplifies their family's long history of giving to the Jewish Community: 
"Real Change, Enduring Change, Happens One Step At A Time." 
Evan, who resides in New York City, recently returned home for a visit, and stopped by the Trager Family JCC and was moved by the words on the staircase, "It's a beautiful tribute to my parents and it's in such a high traffic area yet it is subtle in a classic way." 
He says, "Charity starts with knowing our beliefs and the need to connect that is very personal. The Trager Family JCC is so much a part of who we are as a family, we knew donating in this way would honor our parents and benefit our hometown Jewish community for generations to come." 
For his part, Dan, who also lives in New York City, remembers those stairs at the old JCC and the sense of community he felt growing up with fellow Jewish children, "When children grow up with one central meeting spot and shared experiences that feels safe to them, it becomes part of who they are as adults. 
With antisemitism on the rise, The Trager Family JCC warms the heart when you see the totality of the Jewish experience in a place that welcomes everyone." 
Jessica, who lives in Boston, says, "While we no longer live in Louisville, we still love supporting the JCC. We have watched our parents, grandparents and our entire family faithfully donate their time and financial resources to build a better Jewish community." 
Marcia Roth is past president of the Jewish Federation of Louisville and has served as chair of the Jewish Community Relations Council and the Women's and Young Women's Division of the United Jewish Campaign. She is a past president of the National Council of Jewish Women, Louisville section and as a board member of the Jewish Family and Vocational Services. Bruce is treasurer of the Jewish Heritage Fund Board of Directors. He previously served on the Jewish Hospital & St. Mary's Hospital HealthCare Investment Committee and as a volunteer for the United Jewish Campaign. 
Dan and Lisa Roth; Evan and Lindsay Roth and Jessica and Ethan Lasser, made this Capital Campaign gift.