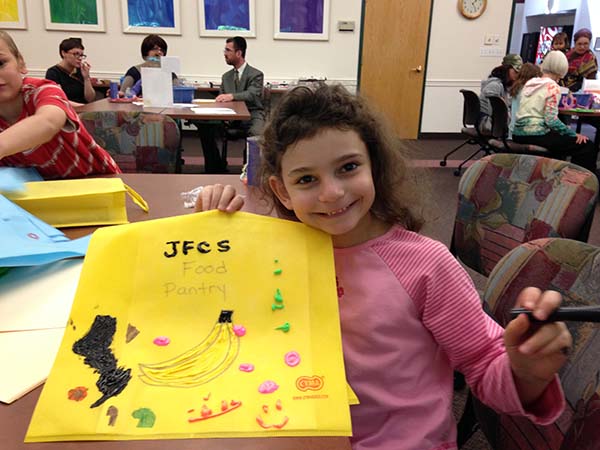 Children from just one year old through their early teens helped PJ Library of Louisville and Jewish Family & Career Services (JFCS) support our community at the Second Annual Tzedakah Fair on May 18. This year's event exceeded the success of last year's inaugural Tzedakah Fair by including lunch, more activities and partnering with the Carole and Larry Goldberg JFCS Family Mitzvah Program.
"There was an obvious connection behind the purpose of this event and JFCS's Family Mitzvah Program," said PJ Library of Louisville Director Jennifer Tuvlin. "We can't thank JFCS enough, especially Kim Toebbe, for inviting PJ Library to use their facility and introducing us to families who might not have already been engaged in PJ Library events."
The purpose of the event is to teach the youngest community members the meaning of tikkun olam, the repair of the world, and how their own acts of kindness can impact others.
Marsha Roth, co-chair of the PJ Library program, engaged the children through reading PJ Library's book, Noah's Swim-a-thon, by Ann. D. Koffsky. In this book, a young boy learns to swim to raise money for tzedakah.
The premise of the book, raising money for others, was the theme of the afternoon. The children all brought food for the JFCS Food Pantry and then were off to work. They were "paid" for making picture frames, bookmarks, reusable grocery bags, tzedakah boxes and pictures and writing letters for Jewish soldiers in Afghanistan.
The picture frames and bookmarks are going to be distributed with the JFCS Shabbos Friends program that visits Jewish residents in nursing homes around Louisville. The reusable bags are going to be stocked in the JFCS food pantry and the tzedakah boxes were for the children to keep and hopefully remind them of the importance of helping those less fortunate.
At the end of the event, the children donated their earnings to help support PJ Library, a program that sends free books and CDs monthly to Jewish children in Louisville through a partnership with the Harold Grinspoon Foundation and the JFCS Food Pantry.
"Penina Rubin was so happy when she told me, I put 20 pennies into the JFCS can and 20 pennies in the PJ Library can,"  said Kim Toebbe. "Many families met each other for the first time at the event and have said they look forward to continuing to see each other at subsequent events."
Marsha Roth and Becky Swansburg co-chair PJ Library.
If you are interested in volunteering with JFCS, please contact Kim Toebbe at ktoebbe@jfcslouisville.org. If you are interested in registering for PJ Library, please visit pjlibrary.org or contact Jennifer Tuvlin at jtuvlin@jewishlouisville.org.