[by Shiela Steinman Wallace]
After 22 years of dedicated service to the Louisville Jewish Community, Alan Engel is retiring, and nearly 200 people came to the Rudd Heart & Lung Conference Center at Jewish Hospital & St. Mary's HealthCare on Sunday, October 17, to acknowledge and pay tribute to his contributions to our community.
One after another, community leaders took the podium, mixing praise and admiration with humor. Jewish Community of Louisville President David Klein recalled that it was Alan Engel who arranged his first visit to Israel, making sure it was loaded with meaningful and memorable experiences. Mayor Jerry Abramson thanked Alan for making a difference in the community.
Former Campaign Director Alan Klugman returned to Louisville from New Jersey so he could thank Engel in person for his encouragement to be creative and think out of the box and for his friendship.
Marie Abrams declared Engel to be among the best Jewish professionals in the nation, adding that she knows she can depend on his judgment. Ron Abrams added that his excellent reputation extends across the country.
Other family members and staff expressed similar sentiments. There were letters from some who could not attend, and a video that included clips from Jewish and secular leaders and friends from Louisville, across the country and even in Israel, including former Metro United Way President Joe Tolan, University of Louisville President James Ramsey and Bellarmine President Jay McGowan.
JCL President and CEO Stu Silberman said he also looks to Engel as a leader and mentor, stating that he will rely on Alan in the future.
JCL Vice President and Campaign Director Sara Wagner summed it up, thanking Engel for over 20 years of passion and professionalism during which he empowered his staff and always taught that it is not about the dollars raised, but about the lives that have been saved and changed.
In appreciation of his service to the community, the Alan S. Engel Partnership with Israel Professional Development Fund was announced.
When Engel took the podium, he said he was overwhelmed and at a loss for words. He thanked the volunteers, saying, "Without you, the community doesn't work."
Engel came to Louisville in 1988 to serve as the executive director of the Jewish Community Federation and addressed many challenges through his career, always striving to engage the community and work to strengthen it for the future.
He was instrumental in bringing about the consolidation of the Federation and the Jewish Community Center to form the JCL, and worked with professional staff and volunteers as the organization began to take shape. He will continue to be available as a consultant.
Throughout his career, Engel identified things that needed to be done and took the steps necessary to make them happen. He worked for the success of the Annual Campaign and to build the endowment. He strove to increase the involvement of volunteers and to create a staff that understands what community is about and how to work with the volunteers to develop an overarching plan.
"We did that," he said with pride. We created a community structure that touches on all aspects of Jewish life."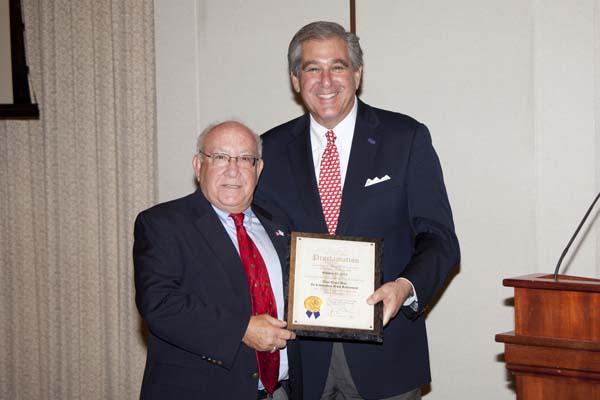 He also ensured that the Jewish community worked with the general community through the Coalition for the Homeless and supporting the Community Relations Council. "Look what we created through the National Coalition for Literacy," he said. "We had over 200 volunteers from the Jewish community who went into schools" to work one-on-one with young students to improve their reading skills.
In the early 1990's, then Federation President Edward B. Weinberg, who last year served as the first chair of the Jewish Community of Louisville Board, and Engel created Kesher Kentucky, a leadership development program designed to help high school juniors and seniors strengthen their Jewish identities.
When given the choice of welcoming immigrants and refugees from the Former Soviet Union to Louisville or raising funds to help them settle in other communities, Engel worked with the Federation Board, Jewish Family & Career Services, the Jewish Community Center, Eliahu Academy, Jewish Hospital, National Council of Jewish Women and many others and opened our communal doors to the New Americans.
With Peter Anik at the helm, Engel encouraged and supported the revitalization of the Hillel program on the University of Louisville campus. Today Hillel is the place Jewish students go to participate in Jewish programming, advocate for Israel, engage the broader Jewish world and just hang out.
Engel also ensured that Louisville participated fully in the regional Hillel Consortium that supports the program at campuses across the Midwest to ensure that students from Louisville who choose to study at other schools have Hillels available to them.
When the Jewish Agency for Israel created the Partnership with Israel program in the mid-1990's, Engel quickly realized the value of building strong, one-on-one relationships between Louisvillians and Israelis, and led the community to become one of the founders of the Central Area Consortium that has resulted in numerous shared programs in the areas of cultural arts, medicine, education, business and more. This ongoing program holds much promise for the future as well.
In addition, Engel brought Alexandra Shklar to the community to serve as Shlicha (Israeli emissary) and an instructor at the University of Louisville. During her tenure, Louisville celebrated Israel@60 with and extensive series of programs that showcased Israel to the entire Louisville community and involved many volunteers.
He worked with the JCC to bring the Florence Melton Adult Mini-School to Louisville, and saw the creation of the Foundation for Planned Giving. He worked with Jewish Hospital and Signature HealthCare to ensure that Four Courts would remain a Jewish nursing home after its sale, and negotiated a subsidized health care insurance plan for all communal professionals working at Jewish congregations, agencies and organizations in Louisville.
Engel also negotiated with Urban Innovations to invest nearly $2 million in renovations to Shalom Tower when they purchased the property. The sale included promises that the building would remain a HUD facility, current residents would remain in place and Jewish programming for residents would continue. The $2.8 million proceeds from the sale were invested, to be used for programming and services for seniors.
Engel has been active on the national, state and local levels as well. He is currently the president of the Association of Jewish Community Organization Professionals. He has taken numerous leadership roles with United Jewish Communities and its predecessor organizations. He also encouraged many Louisville Jewish community leaders to serve on the boards of national agencies.
He also served as chair of the Kentucky Commission on Community Volunteerism and Service, where he worked with programs like AmeriCorps in many venues across the state.
In Louisville, he served as Board Chair for the Coalition for the Homeless, a Board member of the Center for non-profit Excellence, and is a graduate of Leadership Louisville.
In 2003, in recognition of 25 years of community service, Hebrew Union College-Jewish Institute of Religion awarded Engel an honorary doctorate.
Engel's wife, Linda, and children, Josh and Hope, Shanna and Jeremy, also attended the celebration.
The Engels will continue to call Louisville home. He says, "I'm going to relax and play golf. I'll volunteer in the general community and hope to do some consulting.
Ronald and Marie Abrams co-chaired the celebration. Committee members included Betsy Bennett, Edwin Cohen, Linda Engel, Toni Goldman, Jane Goldstein, Carol Heideman, Michael Heideman, Joseph Hertzman, Fred Joseph, Cheryl Karp, David Klein, Carolyn Neustadt, Fanny Rose Rosenbaum, Bruce Roth, Marcia Roth, Robert Sachs, Denise Schiller, Mi-chael Shaikun, Steven Shapiro, Dr. Gerald Temes, Maura Temes, Leon Wahba, David Weinberg, Edward Weinberg and Lior Yaron. Staff members who helped put the event together were Sara Wagner, Phyllis Shaikun, Mary Jean Timmel and Celia Triplett.
Special thanks go to Jewish Hospital and St. Mary's HealthCare for hosting the event and to JHSMH staff members Mike McKune and Bonnie Harvey; and to photographer Ted Wirth.
---
{gallery}Community/2010/102210/AlanRetirement{/gallery}