(Editor's note: Andrea Glazer of Louisville, who is competing for Team USA in the 20th Maccabiah Games in Israel, July 4-18, as an equestrian, will be blogging about her experiences from the Jewish state. She has agreed to share her posts with Community. You can also follow her at her blog site, usaequestrianglazer.wordpress.com.)
Sorry Grandma, I haven't found my Jewish husband yet, but I have fallen back in love with Israel since the last time I was here almost a decade ago.
On our way to Jerusalem, our poor coach, Kate Levy, got very car sick and dehydrated due to the long bus ride and 90-degree weather and was not able to participate on the trip after about an hour in, but she is feeling better now. Cloe Hymowitz's Mom, Debby, took over as the equestrian team chaperone, photographer and coach for the day. (Thank you, Debby!)
We rode on a bus with the men's and women's basketball teams, which was really fun. Yes, I did argue with the players about the whole UofL scandal about 15 times and I made my parents proud because they were very impressed by how much I knew about the Louisville Cardinals.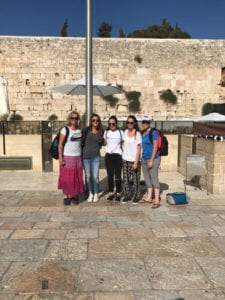 The Old City is beautiful, and I finally got falafel! That's when I was realized I am hooked and may never be able to leave. We got to put our notes and prayers in the Western Wall, shop, bargain and go into an underground tunnel that turned out to be an old sewer system. We walked over six miles yesterday and were unbelievably exhausted.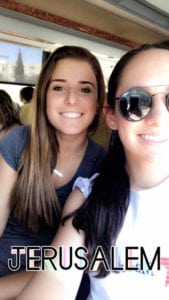 One thing about equestrians: We know how to rally. We got back to the hotel at 9 p.m. and, despite our desperate need for sleep, we knew we couldn't miss out on all of the "extra-curricular activities."
Haley's friend is a local here and knows all the best places to go out. We took a bus and went to a really fun club filled with locals. Honestly, the equestrian team fit right in with the Israelis and it was such a fun night. I am currently feeling the aftermath since we got home at 4 a.m. and had to wake up at 6:15 for a training session, but you're only representing the USA at the Maccabiah Games once, right?
This morning, the dressage team, Kate, and I went to the barn that was nice enough to let us ride some of their horses.
When we got there, we were greeted with four horses already tacked up (meaning grooms put their saddles, bridles, and boots on for us) and told us which horses jumped and which did just dressage. That was it. I was told to ride the leggy chestnut mare named Chelsea. Despite knowing absolutely nothing about the mare besides her name, I hopped on, warmed up, and started over the fences. It turns out, she was a green 6-year-old that just started jumping less than a year ago (I found this out after I was done with my ride). I jumped little courses, and Kate was my jump crew and eyes on the ground. The mare was pretty scopey, and I had a good time jumping her!
Next, I got to ride the pregnant-looking, paint mare, that Hope was doing dressage on. She had the smallest stride and was so cute! I practiced some tight turns to jumps and lengthening and shortening her stride to a related distance (videos are on my Facebook page so you will understand what I mean). I had so much fun on her and felt that I gave her a really good ride to the jumps. I was told after I finished my ride that the mare is not very confident and frequently stopped at the last second before the jumps. Thankfully, I didn't find her confidence to be a problem, but it would  have been nice to know what quirks each horse had so I would have been prepared for it. In the end, both rides went great, and it was so refreshing to be riding again after a few days off.
Before I get back on the bus to go explore Tel-Aviv, I'll end the blog with a picture and direct quote from my teammate, Haley. Don't get the wrong idea, she truly is the sweetest girl, but I can't not share what she said (sorry Haley). Oh, and at her jumper shows, you can drop your dog off for a massage while you are riding.