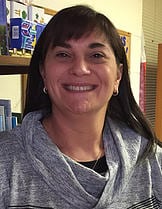 Mindye Mannel has come home to the Jewish Community Center and the JCC's Early Learning Center has gained an experienced teacher and administrator who has come on board as the early childhood assistant director.
A Louisville native, Mannel grew up at the JCC and is happy to be back with the agency where she works with ELC Director Norma Cahen to provide a high quality educational experience that enables children to meet their preschool milestones so they will be successful when they enter elementary school and beyond.
Mannel is excited about building on the strong foundation that already exists by expanding the curriculum, improving the structure and providing the best educational services possible to children and families. "We are not babysitters," she stressed. "We are educators and it's very important that the families we have and the community at large understand the difference."
The ELC is also incorporating more elements of Judaism into the curriculum. They've even added a Hebrew teacher.
Mannel said the school is looking to grow in every way it can – both physically and educationally. Right now, the ELC has limited space and a wait list. It is painful, she said, to turn people away; and she explains that "we're growing; we're looking to the future; and we're looking for ways in which we can expand."
Mannel has a B.S. in guidance and counseling and a Masters of Education in community/educational psychology, both from the University of Louisville.
Prior to joining the JCC's ELC staff, she worked with preschoolers at The Temple, and in a variety of human resources positions for the Home of the Innocents, Metropolitan College/UPS, Lakeshore Consultants and other organizations.
She and her husband, Rick, have two children, Cooper, 17, and Brent, 14. They are members of The Temple, where she often volunteers. Mannel also volunteers at her sons' schools and spends a lot of time as a sports spectator when her boys compete. She also volunteers for the American Cancer Society and the American Lung Association.