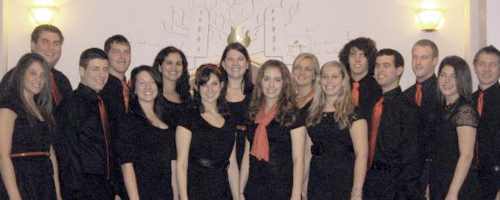 You've seen "Glee."
You've seen "The Sing-Off."
Now, come catch some of the "choral craze" here at home!
Keneseth Israel will present its annual fundraising concert, "Ringing in the Future with the Voice of our Youth." The concert will feature "Hoo Shir," the Indiana University Hillel a capella group.
Joining them that evening will be a choir from Louisville's own YPAS, Youth Performing Arts School.
Cantor Sharon Hordes, Cantor David Lipp, will be performing as well, accompanied by Ann Niren on piano and Michael Jackman on flute.
The concert will be Sunday, February 28, at 7:30 p.m. at  Keneseth Israel Synagogue. Tickets are $12 in advance or $14 at the door for adults and $10 in advance or $12 at the door for students and seniors.
The community is invited to stay after the concert to enjoy a dessert deception prepared by Keneseth Israel's catering committee.