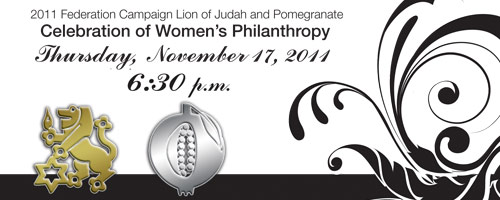 Building on the success of last December's joint event, the 2012 Federation Campaign's Lion of Judah and Pomegranate Divisions are once again planning a joint event.
This year's event, a Celebration of Women's Philanthropy, will be Thursday, November 17, at 6:30 p.m. at the home of Sarah O'Koon.
The featured speaker will be Gail Norry, national women's philanthropy chair for the Jewish Federations of North America (JFNA). Members of the two divisions, their mothers, mothers-in-law, adult daughters and daughters-in-law are invited, and those present will have the opportunity to make their gifts to the 2012 Federation Campaign.
"This is one of the first events to kick off the Campaign," said Pomegranate Co-Chair Robin Miller. "We're excited that the women get to lead the way, and hopefully this will create a lot of enthusiasm for the Campaign."
"I'm very excited about the Lions and Pomegranates having this event together," Miller added. "It helps broaden the reach of our message."
"Last year, despite the snow, the Lion of Judah/Pomegranate Affair was one of our most successful events," said Pomegranate Co-Chair Jennifer Tuvlin. "People have been asking all year when we're going to have another Lion/Pomegranate event because it was so much fun."
"We're excited to have Gail Norry come and speak," said Lion of Judah Co-Chair Debbie Friedman. "She's an excellent speaker who will inspire us."
Miller is also pleased with the choice of speaker. "Gail came up through the ranks in the Campaign," she said. "I've heard her speak at national women's programs, and I remember her being very compelling. I think she'll be someone everyone can relate to because she's like all of us."
Lion of Judah Co-Chair Denise Schiller is excited about the event for another reason. "For 2012, we have a different, younger group of people running the Federation Campaign," she observed. "They inspire me and make me feel that Louisville's Jewish community is going to make it.
"We have some really outstanding people here," she continued. "Even in these tough economic times, busy women are taking the time to be active and participate. They're working full time and have young children, but they're also volunteering and strengthening the community for their children."
Schiller, who raised her children here, is pleased to see the next generation stepping forward and becoming leaders. "We're doing something right because we have an active women's division," she added.
Both Miller and Friedman expressed appreciation to Sarah O'Koon for "opening her beautiful home" for this event.
In addition to serving as chair of National Women's Philanthropy of JFNA, Norry is a member of the Board of Trustees at the Jewish Federation of Greater Philadelphia, where she serves as co-chair of the Center for Jewish Life and Learning and is a past president of Women's Philanthropy.
Norry was the co-chair of the 2008 International Lion of Judah Conference. On the National Women's Philanthropy Board, she serves as co-chair of the TECH team, providing Training, Education, Consulting and Help to communities across North America. She was co-chair of National Young Leadership in 2005.
Norry has been active at the Jewish Federation of Greater Philadelphia for 20 years. She participated in the Federation's Leadership Institute and served on the Leadership Development Advisory Task Force. She was co-chair of the Financial Resource Development Governance Committee and is an active solicitor in the Lion of Judah Division. She is a past chair of Young Women's Division and was the 1996 recipient of the Myer and Rosaline Feinstein Young Leadership Award.
Norry is a member of the United Israel Appeal Board and the By-Laws Committee. She was the founder and co-chair of OROT, a special needs initiative in Philadelphia's Jewish day schools. She is a board member of PEJE, the Partnership for Excellence in Jewish Education, and the United Way of Southeastern Pennsylvania. She is also a member of Congregation Beth Sholom, where she serves on the board.
She and her husband, Dr. Elliot Norry, have three children: Dahlia, Benjamin and Jordana.
The fair market value of this event is $30 and is not tax deductible.
R.S.V.P. by Monday, November 14 to Mary Jean Timmel, (502) 238-2739 or mjtimmel@jewishlouisville.org.
Kate Latt is the Women's Philanthropy chair.
Members of the Lion of Judah and Pomegranate Divisions make commitments of at least $5,000 or $1,500 respectively to the Federation Campaign.
[by Shiela Steinman Wallace]