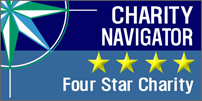 [by Phyllis Shaikun]
In 2008, the Jewish Community Federation of Louisville (now the Jewish Community of Louisville) first received a coveted 4-star rating from Charity Navigator in recognition of its sound fiscal management and ability to efficiently manage and grow its finances. The JCL has maintained that commitment to excellence, and now, for the third consecutive year, the organization has just been notified by Charity Navigator that it has earned this distinction.
Charity Navigator, America's premier independent charity evaluator, researches the financial health of over 5,300 of America's largest charities in an effort to advance a more efficient and responsive philanthropic marketplace.
As the nonprofit sector continues to grow, knowledgeable donors are demanding more accountability, transparency and quantifiable results from the charities they choose to support. The essential information from Charity Navigator provides donors with greater confidence in the charitable choices they make.
Only 13 percent of the charities surveyed have received at least three consecutive 4-star ratings, Charity Navigator's highest ranking. The JCL is one of just 12 charitable organizations in the commonwealth – and one of nine in the Louisville area – to achieve this classification. Their announcement stated, "This exceptional designation differentiates the Jewish Community of Louisville from its peers and demonstrates to the public that it is worthy of their trust."
"We are pleased to achieve the 4-star rating again this year as it validates our efforts to operate as efficiently and effectively as we possibly can," said JCL Vice President and CFO Jamie Pillsbury. "As stewards of our communal funds, it is important for donors to know that we are acting responsibly and equitably on their behalf; they can trust us to help them carry out their philanthropic goals."
Check it out for yourself by clicking here.