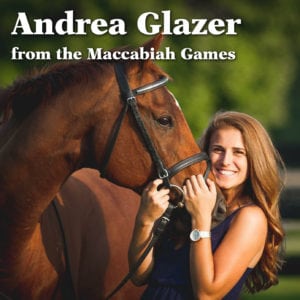 (Editor's note: Andrea Glazer of Louisville, who is competing for Team USA in the 20th Maccabiah Games in Israel, July 4-18, as an equestrian, will be blogging about her experiences from the Jewish state. She has agreed to share her posts with Community. You can also follow her at her blog site, usaequestrianglazer.wordpress.com.)
The alliteration wasn't even on purpose; these are the three issues we have been dealing with since our time in Israel.
Not that I haven't been having the most amazing time of my life, but the constant travel has hindered our ability to train and ride most days. Even though everyone has been trying hard to get me on a horse since I have been here, I have only ridden two times since I have been here. I have gotten to ride three different horses — Chelsea, Casey, and Kansas.
Such unique names, I know. These horses haven't been up to the caliber I have been used to riding at Julie Richards', but I can't complain since random Israelis are allowing a random American to ride and jump their horses.
Kate, our coach, is my eyes on the ground and has really helped keep my confidence up on these horses that aren't easy to ride. Oh, but on the bright-side, I am officially referred to as a "jumper" which is very exciting, and yes, I will go back to Eventing after the competition. 
The reason I haven't been able to ride is mainly due to the heat. All of the USA teams weren't able to practice for a day because it got up to 110 degrees! It's insane. Despite the fact that we don't have practice, we still had all the afternoon activities including: Masada, Yad Vashem, hiking various mountains and trails, and other activities with the team. I love all of the time we get to spend together, but not being able to practice because of the heat, and then spending the rest of the day in the heat was not easy. I have never chugged more water in my life!
For those who don't know, Yad Vashem is the Holocaust museum. I had already been once when I came to Israel a little less than 10 weeks ago. This time, the museum was even more intense and powerful. I can't put into words the exact emotions I felt during and after the museum, but everyone was silent, angry, upset and moved for the rest of the day. The most impactful part of the museum was the last room when they had 600 pictures of some of the victims of the Holocaust.
"Now imagine seeing 10,000 faces for every picture in here," our tour guide said. "That is how many people died in the Holocaust."
This was the first time I really felt I could possibly grasp the concept of 6 million people dying. I know that I have heard that number my entire life, but I have never been able to wrap my ahead around it. Focusing on one picture and imagining 10,000 faces behind it was very powerful and will stick with me for the rest of my life.
That's all for now, but stay tuned for my next post about the wild concert the equestrian team went to, the horse pool, and more. I can't wait to start the competition!