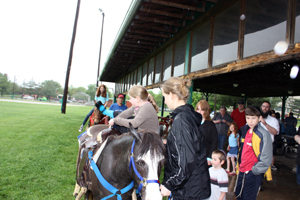 On Sunday, May 2, children from across the community took part in a fun day of activities and a parade to celebrate Lag B'omer. Clouds filled the skies, but this didn't dampen the fun or the enthusiasm of the participants.
The parade began inside the Day School with the children making their own signs to march with. Rabbi Chaim Litvin shared the history of Lag B'omer and gave the children heart shaped cookies to decorate and to eat. He explained that Lag B'omer is the day dedicated to increasing love and caring throughout the world.
To commemorate the time when Jews were forced to study in fields, the children went out to the JCC to enjoy horse rides and a petting zoo created in the pavilion, where the children played with the ducks, rabbits, donkeys, goats, and other farm animals. The children also had the opportunity to ride the horses around the pavilion.
The afternoon was completed with pizza, soda and lots of bouncing fun on the large inflatables at the JCC.
The program was sponsored by the Louisville Jewish Day School with a generous grant from Jewish Hospital HealthCare Services. It was also arranged in conjunction with Chabad of Kentucky, Gan Torah, The Jewish Community of Louisville, the Louisville Hebrew School and Temple Hebrew School.