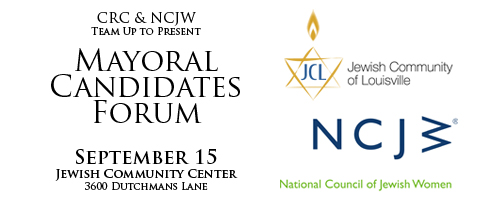 The political scene in Louisville is changing. Mayor Jerry Abramson has chosen to run for Lieutenant Governor on the ticket with Governor Steve Beshear, leaving the Metro Louisville post for the first time since the city merged with Jefferson County.
Do you know who the new candidates for mayor are and where they stand on the issues?
The Jewish Community of Louisville's Community Relations Council and National Council of Jewish Women invite you to meet the mayoral candidates and hear them speak about their vision for the city at a Candidates Forum on Wednesday, September 15, at 7:30 p.m.
There will not be an open question and answer period at this forum, so if you have questions for the candidates or issues you would like to hear them discuss, please e-mail them in advance to the JCL's Community Relations director, Matt Goldberg, at mgoldberg@jewishlouisville.org.
For additional information, contact Goldberg at the e-mail address listed above or at 618-5321.