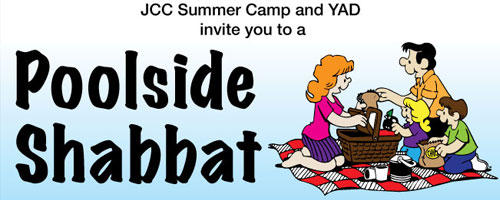 Shabbat is a time to share a meal and celebrate with family and friends. And summer means long warm evenings.
The Jewish Community of Louisville's JCC Summer Camp Program and its Young Adult Division have decided to put the two together and they invite the entire community to enjoy a Poolside Shabbat on Friday, June 25, from 6-8:30 p.m.
Enjoy a special Shabbat program beginning at 6, a picnic and a dip in the pool with your family and friends at the family park behind the Jewish Community Center. Bring your own picnic dinner and a dessert to share. During dessert, there will also be a Shabbat Story Time featuring The PJ Library favorites.
Children must be supervised by a parent or responsible adult at all times.
David and Elizabeth Kaplan are the event hosts.
This event is free and open to the community; however, please reserve your spot by contacting Amy, amyl@jcfl.com or 618-5310 by Wednesday, June 23.