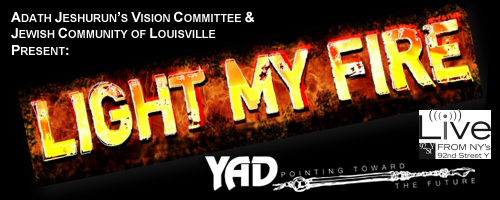 Young adults in the community are invited to a unique Chanukah Party. "Light My Fire" on Sunday, December 12, at Congregation Adath Jeshurun, will begin at 7 p.m. with a short reception featuring wine, latkes and homemade desserts.
Then get ready for some fun with a showing of Connie Chung's interview with comedian Lewis Black, as recorded for the Live at the 92nd Street Y series.
Black's web page reads, "Lewis Black may not be the last angry man, but he is certainly the funniest." It goes on to describe him as a "celebrated political comedian, master of comedic angst, New York Times best-selling author and Daily Show regular." He is also the author of a new book about his least favorite holiday, Christmas, I'm Dreaming of a Black Christmas. He is a prolific and popular stand-up comedian, actor and author.
Tickets for this adults-only party are $10 each, and may be purchased online at www.adathjeshurun.com/get-involved/events/light-my-fire/.
This event is sponsored by the Adath Jeshurun Vision Committee and the Jewish Community of Louisville.