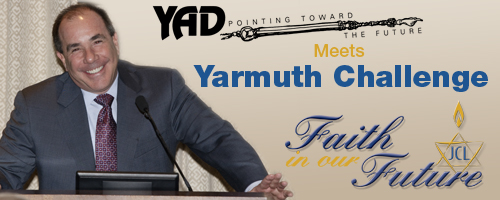 Members of the Jewish Community of Louisville's Young Adult Division (YAD), co-chaired by Jennifer Tuvlin and Michael Salamon have reason to be proud. At the Major Gifts event last fall, William Yarmuth made a generous gift to the JCL Annual Campaign, but he also issued a challenge to YAD.
He promised to contribute an additional $50,000 if they could double the $47,000 they raised at their main Campaign event. YAD has reached their goal.
YAD got to work immediately. Volunteers spoke to those who had not made pledges and held several telethons. They not only met Yarmuth's challenge, but exceeded it. As of Tuesday, April 27, YAD had raised an additional $55,599. YAD's contributions are an important part of the total JCL Campaign, which has now raised over $2 million, which represents a 17 percent increase over the same gifts last year.
"I am so excited that the YAD reached this goal," Tuvlin said. "Bill Yarmuth's donation was beyond generous, and I am thrilled that the YAD stepped up to make this happen. I think it's wonderful that Bill's inspiration for this match stemmed from young adults taking leadership roles in the merger of the Federation and the JCC to form the new JCL. He recognized what the young adults are doing and challenged us to complement YAD's volunteer efforts with financial support, and the young adults responded."
"We're thrilled we're able to meet that match," Salamon added, "and most importantly, it's a very positive thing for the community as a whole. I want to thank all the people who volunteered their time and effort to make this possible. Also, thanks to Bill Yarmuth for his generosity in putting up the challenge. Without him, it wouldn't have happened."
"I have never been more proud to write a check for the Jewish community," Yarmuth said. "I am so gratified that the younger adults responded as they did, signaling their willingness to step up as our future leaders, which gives me much comfort that the Jewish community will remain strong for future generations to come.
"I also want to thank those that joined with me in enhancing the challenge," he continued. "I want to give special thanks to the YAD co-chairs, Jennifer Tuvlin and Michael Salamon and all the other young adults who worked so hard to make the YAD Campaign such a resounding success."
When Yarmuth issued his challenge in December, he also encouraged other members of the community to join him and increase the match by pledging a penny, nickel, dime or more for every dollar YAD raised in response to his challenge. Several people joined him in pledging to increase their Campaign donations, including Shellie Benovitz, Britt Brockman, Jane Goldstein, Douglas Gordon, Allen Hertzman, Jim Strull and Lior Yaron.
You can help keep the Campaign momentum going. If you have not yet made your pledge, please do so today. If you have made your pledge, please consider adding to it in honor of YAD's success. Every dollar makes a difference in the Louisville Jewish community, to Jews-at-risk around the world and to Israel.
To learn more about what your Campaign dollars do or to make your pledge online today, click here or call 451-8840. You may also send your check to JCL Annual Campaign, 3630 Dutchmans Ln., Louisville, KY 40205.
[by Shiela Steinman Wallace]