Back by popular demand, Wee Rock returns to the JCC. Wee Rock is an engaging fun experiment in rhythm, sound, instruments and movement for kids up to age 5 and their parents. Babies are always welcome to upbeat sessions of traditional songs mixed with popular rock music.
Register now! Classes start January 13 and run through March 16 every Friday from 10:45-11:30 a.m. Cost is $85 for non-members and $60 for JCC members.
Non-Member Online Registration, please click here.
JCC Member Online Registration, please click here.
For more information, please contact Allison Scwartz at 238-2774 or schwarts@jewishlouisville.org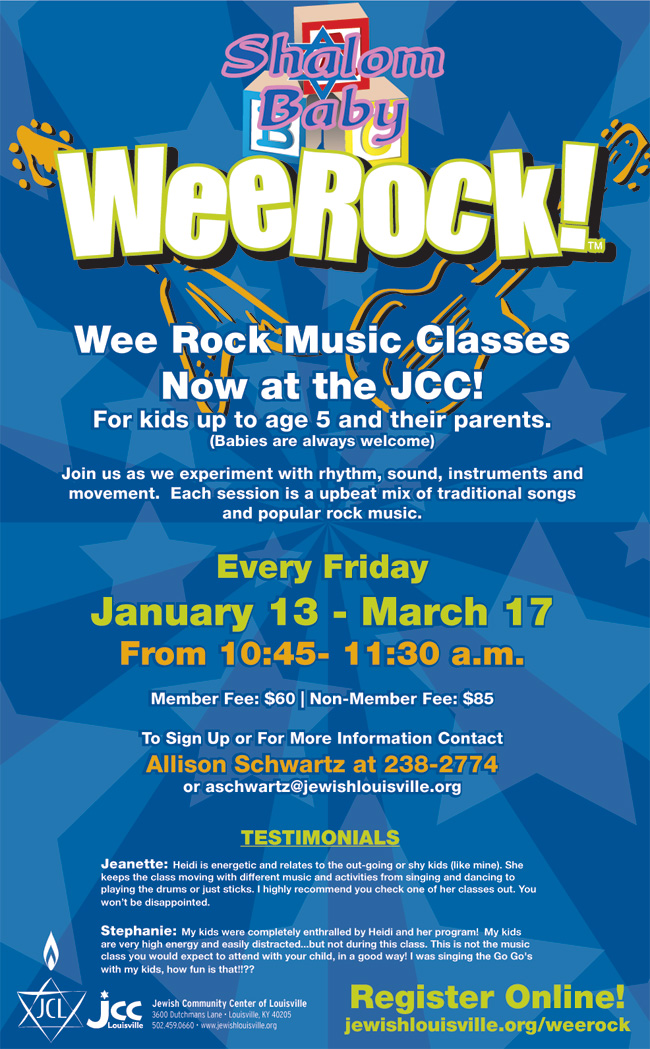 Testimonials:
Jeanette: Heidi is energetic and relates to the out-going or shy kids (like mine). She keeps the class moving with different music and activities from singing and dancing to playing the drums or just sticks. I highly recommend you check one of her classes out. You won't be disappointed.
Stephanie: My kids were completely enthralled by Heidi and her program! My kids are very high energy and easily distracted…but not during this class. This is not the music class you would expect to attend with your child, in a good way! I was singing the Go Go's with my kids, how fun is that!!??