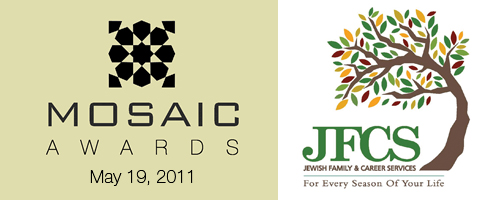 On Thursday, May 19, Jewish Family & Career Services will honor five individuals at the sixth annual MOSAIC (Multicultural Opportunities for Success and Achievement in our Community) Awards event to be held at the Henry Clay Hotel at 5:30 p.m. The awards salute New American immigrants and refugees who have made significant contributions to their profession and to our community.
This year's honorees include Leon Wahba, who was born in Egypt and  is a retired international banker and volunteer leader with the Jewish Community of Louisville; Paul Gerrard, originally from Great Britain, is director of corporate affairs and chairman of Humana's Corporate Social Responsibility Council; Suhas Kulkarni, from India, is founder and CEO of Olmnisys, chairman of the Indian Professional Council of Kentucky and board president of Crane House; Miguel Lagunas, from Mexico, is a retired electrical engineer and founding member/volunteer leader of many Hispanic/Latino community organizations; and Saleem Seyal, M.D., of Pakistani descent, is an associate clinical professor of medicine at the University of Louisville School of Medicine, an interventional cardiologist and senior partner at River Cities Cardiology and medical director of preventive cardiology at Clark Memorial Hospital.
Each person recognized will receive a MOSAIC Award, an artistic representation symbolizing Multicultural Opportunities for Success and Achievement In our Community. Kentucky woodcraftsman Mark Whitley created this year's award. Community will be providing in-depth profiles of each of the honorees in the next few papers.
The honoree most familiar to many in our Jewish community is Leon Wahba, who came to the United States when he and his family, with considerable help from HIAS (the Hebrew Immigrant Aid Society), fled from Egypt and came to Louisville shortly after his bar mitzvah in 1959. They were greeted on their arrival by three representatives of the National Council of Jewish Women and received professional support from Alexander Erlen, longtime executive director of the Jewish Social Service Agency and David Dobson, executive director of the Jewish Family Service (the two agencies merged in 1978 to become Jewish Family & Vocational Service and later Jewish Family & Career Services). In a matter of weeks, the family was settled and both parents were gainfully employed.
As a teenager, Wahba spent much his free time at the Jewish Community Center where he was a vice president of Rauch AZA. After graduation from Seneca High School in1963, he earned a bachelor's degree in commerce from the University of Louisville and enlisted in the army in 1967. After serving in Germany for two years, he returned to Louisville and began his banking career with First National Bank of Louisville (now PNC Bank) in 1970.
In 1973, he met and married his wife, Helen. At about that time, he renewed his involvement with the Jewish community where he served as president of B'nai B'rith Bluegrass Lodge #14 and was an avid solicitor for State of Israel Bonds.
His business degree and fluency in French, Italian, Arabic and a "smattering" of Spanish made Wahba the perfect candidate to work with the bank's new international department. He became their first representative for Europe, North Africa and the Middle East working out of Brussels, Belgium, where several of his relatives lived. During his three-year stint there, he helped facilitate Kentucky imports and exports with Algeria, Egypt, Lebanon and pre-ayatollahs Iran. In fact, he was doing business in Beirut in 1975 when the civil war in Lebanon broke out.
In late 1977, he was hired by Key Bank in Cleveland, where he headed their international and large corporate banking departments for 30 years. During that time he was a trustee at Temple Tiffereth Israel, served as president of the religious school and was active with the American Jewish Committee (AJC), United Way, Jewish War Veterans, B'nai B'rith, the Cleveland Orchestra Foundation and the Cleveland Hearing and Speech Center. He also promoted Israel Bonds to local, state and corporate agencies and, by 1999, with his influence, Key Bank held the second highest amount of Israel Bonds of any bank in the country.
In 2002, Wahba retired as head of international interests at Key Bank and a short while later joined SunTrust in Atlanta as head of their international department, which he reorganized before retiring for a second time in 2005. While in Georgia, he served on the board of the Atlanta/Israel Chamber of Commerce.
He figures that over the course of his 35-year banking career, he traveled to some 55 countries, but when the time came to fully retire, the Wahbas decided to return to their hometown while their children, daughter Marcie and her husband, Joshua Eppert, and son Jeff, who is 30 and unmarried (if you know anybody, contact Leon), still live in Ohio.
Since returning to Louisville, Helen and Leon have become Jewish community volunteers. Helen is a life member of NCJW, spends time at Jewish Family & Career Services and is a supporter and volunteer at Gilda's Club. Leon is a board member of the Jewish Community of Louisville and chairs its Jewish Community Relation Council. For the past four years, he has represented the Jewish community on the annual Hunger Walk's steering committee and is president of the Louisville Delta Upsilon Alumni Association.
At the MOSAIC event, JFCS will also recognize other first generation Jewish individuals who helped establish Louisville's Jewish community. Family members can also honor their ancestors, many of whom came to our city as refugees and immigrants, by becoming Family Tribute sponsors. Sponsors receive two tickets to the MOSAIC Awards dinner and the names of those they are remembering will be inscribed in a permanent memorial at the Roth Family Center. The tributes also will be a part of the video presentation to be shown during the awards ceremony.
Honorary chairperson of the event is Bill Samuels, Jr. retired president of Maker's Mark. Jewish Hospital HealthCare Services is the New American Sponsor and WLKY is the Media Sponsor. MOSAIC Sponsors are Maker's Mark and PharMerica. Proceeds from the event will benefit JFCS.
Individual tickets to the MOSAIC Awards cost $100 per person (table sponsorships are still available for $1,500) and numerous levels of sponsorships are available to individuals and businesses. Tickets can be ordered online at www.jfcslouisville.org. For more information about how to create a Family Tribute, purchase tickets or provide sponsorships, please contact Beverly Bromley at 452-6341, ext. 223.