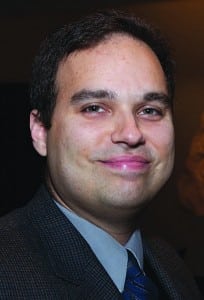 This past week, our good friends in the Islamic community were forced to confront an act of pure hatred – the vandalism of their house of worship. The content of this vandalism is vile and repugnant, and I conveyed that message to our friends at the mosque, the greater Louisville faith community and the media. The fact that Stars of David were spray-painted on the building along with Hebrew writing was especially troubling.
I can understand why there is a sense of bewilderment at our wonderful relationship with the Muslim community here in Louisville. After all, events in the greater world often show our communities in conflict, and events in the Middle East sometimes lead to violence between our beloved Israel and its mostly Muslim neighbors. It is safe to say that the current state of relations between Muslims and Jews around the world needs serious improvement.
And yet there are so many examples of our two communities coming together. Just this week, groups of Muslims and Jews formed a coalition in Europe aimed at defeating legislation that seeks to ban Kosher or Halal meat preparation. Muslim and Jewish groups around the United States are opening up new passages to friendship all of the time.
Here in Louisville, we have cooperated on so many occasions for so many projects, they are too numerous to mention … a sign of our growing friendship. Our Muslim brothers and sisters are our doctors, our lawyers and our community leaders. We go to work with them, we go to school with them and we invite their kids to our kids' bar and bat mitzvahs. We share the common values of family, education, and good citizenship, the values that all Americans aspire to share. That is why an attack on a mosque is so frightening because it could easily happen to us.
Our answer to this attack is extremely vital and will have, I hope, positive and permanent repercussions. Of course we must think of security, capturing the perpetrator, being vigilant, keeping our eyes open for suspicious activity. But the response of our Jewish community must also encapsulate the Jewish ideal of loving your neighbor as yourself.
We must deepen our ties with our Muslim neighbors. More of us need to participate in their annual Iftar dinner, and we hope to see more of them at our Interfaith Chanukah Party and Yom HaShoah Commemoration.
The heinous act, which sought to divide us, should bring us closer, and render these kinds of acts irrelevant
Happy New Year
This has been an event-filled year, as every year is. From a JCRC perspective, we had murders in France, a visit by the Israeli Prime Minister to Congress, and an Iran nuclear deal that has divided our community to an extent. Still, I am a firm believer in the resiliency of our community and the continuing trend of our "rising to the occasion" when we are faced with adversity. Yet, I hope that these positive traits are not revealed in the coming year, that only positive developments face our community.
May it be a sweet and prosperous year for you and your family.