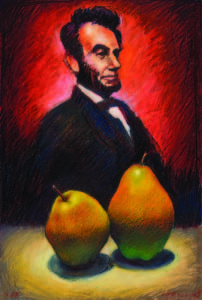 The subjects of the paintings in Martin Rollins' Patio Gallery show "This, That and the Other," may have no obvious connection, but the vibrant and eclectic body of work does have a common thread.
"The artworks were created from 1980-2015 and all use a related format of still-life objects paired with an image or images," said Rollins. "My goal in grouping them was to see the relationship between the different artworks as well as the range of how I've used the format over time."
Rollins, a popular Louisville-based artist known for his lush landscapes and depictions of River City neighborhoods, shows a different side of his painting persona in "This, That and the Other," which is on display through Tuesday, November 17.
Curious couplings are a recurring theme. For instance, in "Lincoln Pears," Rollins pairs the legendary president with produce. "I used the pears for their 'human' qualities: their flesh, their skins freckled and pied, their vulnerability, and their forms," Rollins said. "They were not necessarily intended as stand-ins for humans, but I suppose to some degree they are."
As Rollins was creating the painting, he "was ruminating on Lincoln and his humanity, as well as the trajectory of his life in the presidency. He was so brilliant and yet so enigmatic; the deep personal costs he paid to save the country at that crucial juncture," Rollins said. "Depicting him with pears doesn't say all of that – but these were my thoughts as I drew the image."
Other peculiar combinations within the works include Jackie O. and a conch shell, and peaches with an Impressionist-style ballet dancer. This show allowed Rollins a chance to reconsider and rediscover his work.
"It allowed me to bring a number of these works together for the first time, and to experience connections and relationships between them," he said. "As an artist, seeing the works together in this way can not only give you new insights into the individual artworks, but they may also suggest other creative paths up ahead."
Tim McCoy
Georgia-based photographer, philosopher and poet Tim McCoy used a fascinating vintage process to create the eight peaceful gold-toned prints in "Long, Long Journey to the Sea," on display in the JCC's Patio Showcase though Sunday, November. 8.
To bring his images of gorgeous locales including Tennessee's Smoky Mountains, Georgia's Suwanee River and a North Carolina Cherokee reservation to shadowy, impeccably detailed life, McCoy used silver nitrate and albumen, a protein found in egg whites.
"I take the egg whites, separate them from the yolks, and I beat them with chemicals until it becomes a very stiff meringue," he said. "Then I let that sit over night and in the morning, out from that meringue comes this beautiful golden material, and that's albumen."
McCoy then transfers the albumen into a tray and floats raw paper on it. After the paper is coated with albumen, he hangs it up to dry, and then floats it on a silver nitrate solution.
The albumen and nitrate-coated paper is then put in contact with a negative and vacuum-sealed in the frame.
McCoy said the process, which gives the images their dramatic contrast, was the chief way of developing photos in the latter half of the 19th century. He likes how the method imbues his images with an old-fashioned feeling.
"It refers to the past, just by its process," he said. "When people look at these images, there's already something that forces you to look backward."
As for the deeper meaning of the watery works, McCoy, who follows Buddhist and Taoist teaching, said he is encouraging viewers to reflect on the flow of life through the natural journey of water from mountain source to sea.
The JCC Patio Gallery is free and open to the public Sunday 9 a.m.-6 p.m., Monday-Thursday 8:30 a.m.-9 p.m. and Friday 8:30 a.m.-7 p.m.
For more information, visit www.jewishlouisville.org/patiogallery/.