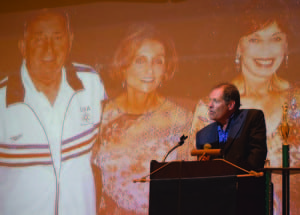 Three Jewish athletes were honored at the JCC's Athletic Hall of Fame induction ceremony on July 27.
Peyton Greenberg, Max Behr and Darren Erman were inducted into the Hall of Fame for their successes in sports.
Darren Erman
Erman was the star of the evening and talked about growing up in Louisville and how that took him to become a lawyer and eventually an NBA coach.
"When I was a lawyer, I wasn't very good," Erman said. "I didn't have a passion for it. My passion was for basketball."
He said once before a Golden State game, he was writing out his plan for the game. Player Harrison Barnes told him that his handwriting was terrible and that studies show that handwriting is directly related to your attention to detail. He told Erman, "On the court, your attention to detail is off the charts. It's the best I've ever seen."
Erman said, "It's interesting because when I was a lawyer, every time I got a review, it said 'needs to pay better attention to detail.' The difference was I had a passion for basketball."
Passion was the theme of Erman's speech that evening, even as president of BBYO.
Erman was president of BBYO twice in high school.
"I got involved in BBYO for sports, I didn't get involved for leadership but somewhere along the line, it became more than sports," he said. His sophomore year, he ran for president because it was the next logical step and there was nobody else to do it.
"I was terrible. Peter (Anik) was frustrated with me because I wasn't good at all," he said. "Then my senior year, the chapter was in disarray and I ran for president again. And I was very good. The difference was the passion and wanting to do it. It's the same thing about being a lawyer versus being a coach. When you have passion, people feed off of it."
His advice: "Do whatever you're passionate for. Don't be afraid to take risks. And better yourself. Whatever you do you should better yourself." After he spoke, Scott Weinberg interviewed him on the stage and took questions from the audience. One audience member asked, "After you've won a couple NBA championships, would you ever stoop so low as to coach U of L?"
Erman said, "Louisville is the only university in the state of Kentucky, isn't it?"
Scott Weinberg replied, "It's the one that's only won three championships."
Peyton Greenberg
Peyton Greenberg, now a freshman at Northwestern University, was inducted into the Hall of Fame for her swimming accomplishments. Her father, Rick Greenberg, introduced her. He said she wakes up at 4:15 a.m. to swim from 5-6:30 a.m. daily, then she goes to school until 2:30 p.m., returns to the pool for practice from 3:30 to 5:30, then works out with weights until 6:30 p.m. then is home by 7 to do at least two hours of homework.
Even with all that work, she still found time to do things with her friends and the community, and graduated as valedictorian at duPont Manual High with a 4.0 g.p.a. Her list of accomplishments are long, and she has recently qualified for the U.S. Olympic Trials next year in Omaha.
"Even though I am biased, the selection committee has made a wise choice in inducting Peyton into the JCC Hall of Fame," Rick Greenberg said. "I am fortunate to be known as Peyton's father, an honor that I will proudly cherish."
Her coach, Mike DeBor of Lakeside, spoke via video of her amazing work ethic. "She's an outstanding person, there's no doubt about that," he said. "She's been a joy to have around athletically."
"I feel like the Jewish Community is another part of my family." Peyton Greenberg said, "Maccabiah was one of the best experiences of my life, making friendships I still have today, seeing an amazing country and making me feel connected to Jews around the world." She said the community has kept her going and working to be stronger.
"So, remember to be kind," she said. "We might be one big fat Jewish family, but we're one family that never falters."
Max Behr
Max Behr was also inducted into the Hall of Fame for his career in tennis. His son, Mark, introduced him, saying he was always good at all sports. His golf trophies filled the family room of their house, but Max quit golf to focus on his new passion, tennis. He went on to play in several international Maccabiah games.
"Although winning was very important, what he enjoyed most was meeting fellow Jews all over the world and playing in Israel," Mark Behr said.
Max Behr said he chose tennis because of his chosen profession, oral surgeon. "I had to think of my hands."
He and Mark won the Kentucky state father and son doubles. "I was ranked number 1 in Kentucky singles in my 70's and also played on the Kentucky all-southern team." He traveled all over South America and Israel playing in the Maccabiah games from 1995-2009. In 2010 at the age of 80, he traveled to Sydney, Australia, to compete in the grand masters.
"My experience was incredible," he said. "Not only did it give me the opportunity to compete on an international level, but the closeness of the team and the friendships that I made will last a lifetime."
But there was more than competition to keep him going.
"Playing in the Maccabi games was one of the most rewarding experiences in my life. I couldn't have done it without my wife Harriet to cheer me on. Especially when I was in Argentina. I had just finished nine months of chemotherapy. She encouraged me to keep playing at my fullest capacity." Behr's advice was to get involved.
"I urge all of you to become involved in some form of sports activities," he said. "From junior to senior, find your niche. It will enhance your life, I promise you." Committee Chairs Mark Eichengreen and Aaron Tasman emceed the evening.