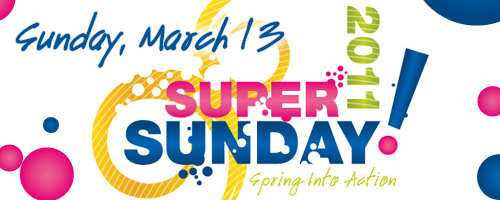 When a telethon volunteer calls on behalf of the Jewish Community of Louisville's Annual Campaign on Super Sunday, March 13, please answer and give generously.
When you support the Annual Campaign, you invest in our Louisville Jewish community and help Jews-in-need in Israel and around the world.
Additional volunteers are needed second and third shift.
In Louisville, your gift of:
$15 allows a child to participate in the JCC's Kids Night at the J or a Hillel student to enjoy a Shabbat dinner.
$60 enrolls a child in the PJ Library for a year.
$135 ensures 1 month of kosher meals-on-wheels deliveries for a homebound senior from the JCC.
$170 gives a child the opportunity to be part of the JCC's Gator Swim Team.
$195 covers the fees for a teen a scholarship to attend BBYO's Kallah Weekend.
$225 funds a one-year scholarship for a child in the High School of Jewish Studies.
$250 provides a one-year scholarship for a child in the Kehila or KATS Sunday School programs.
$252 supplies monthly transportation to the doctor for a senior adult for a year through Jewish Family and Career Services' Senior P.A.L.S. program.
$350 helps an unemployed adult gain support, skills and networking through JFCS.
$350 funds a one-year scholarship for a child in The Temple Hebrew School.
$500 provides one month of counseling at JFCS for the family coping with trauma.
$640 enables a Jewish child to receive a scholarship to attend one month of JCC summer camp.
$650 funds a one-year scholarship for a child in the Louisville Hebrew School.
$876 keeps a Jewish family's membership in the JCC when economic necessity would otherwise force them to resign.
In Israel and around the world, your gift of:
$17 provides a food package that includes rice, lentils, oil, sugar, condensed milk, tinned fish, split peas, kasha, soap, toothpaste, cocoa and coffee for a senior in the FSU.
$28 gives an Ethiopian-Israeli immigrant a place at a festive Seder.
$40 supplies one month's medication for a child with asthma.
$115 gives a month of meals to a child in Eastern Europe.
$180 enables a teen to participate in a leadership development program.
$365 provides a month of respite services for a family with a disabled child.
$700 supplies educational materials, games and equipment to a Jewish kindergarten in Poland.
$1,000 covers a comprehensive educational program for an immigrant soldier.
$1,873 funds a scholarship for one young adult to participate in a long-term Israel program.
$2,000 provides a year of home care for a bedridden person in Romania.
$5,000 ensures that a victim of domestic violence will receive counseling for a year.