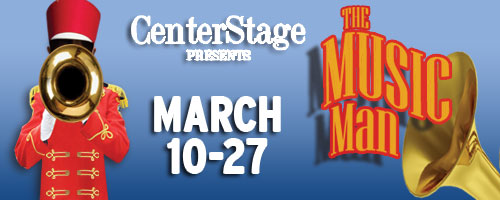 CenterStage is marching into spring by presenting Meredith Wilson's conniving tale, The Music Man, at the Jewish Community Center Thursday, March 10, through Sunday, March 27.
In The Music Man, con man Harold Hill schemes to pose as a boys' band organizer and leader. He plans to sell the unsuspecting citizens of River City, IA, band instruments and uniforms then skip town with the cash.
However, his plans are put on hold when questioning librarian, Marian Paroo, sees right through him. When the couple falls in love, Hill risks being caught to be with her.
CenterStage Artistic Director, John R. Leffert says, "I am excited to bring more than 60 people to the cast. With ages ranging from just 5-years-old to over 55, it creates challenges, but it will be rewarding to see everyone march down Main Street during '76 Trombones.'"
The cast is lead by 10-year CenterStage veteran Alex Craig (Harold Hill) and CenterStage newcomer Lauren Maxwell (Marian Paroo). The show features musical selections such as "My White Night," "Gary, Indiana" and "Pick a Little, Talk a Little" to name a few.
The Music Man originally opened on Broadway at the Majestic Theatre on December 19, 1957. It has been performed 1,375 times and has won 8 Tony Awards including Best Musical, Best Musical Author, Best Composer and Best Lyricist. The original cast recording even won the first Grammy Award ever presented.
In 1962, the play was adapted to the silver screen for one of the most successful musicals ever produced in movie form. It was nominated for several Academy Awards and won Best Musical Score. Paul McCartney even sang the love ballad "Till There Was You" on The Beatles 1964 album, "Meet The Beatles."
Tickets for The Music Man are available at the Jewish Community Center or by calling 459-0660. Single tickets are $18. If not sold out, discounted rush tickets will be available for evening performances on Sundays, Mondays and Thursdays.
Performances will be held on Thursdays, March 10, 17 and 24 at 7:30 p.m.; Saturdays, March 12, 19 and 26 at 7:30 p.m.; Sundays, March 13 and 27 at 2 p.m.; Sunday, March 20 at 2 and 7 p.m., and Monday, March 21 at 7:30 p.m.