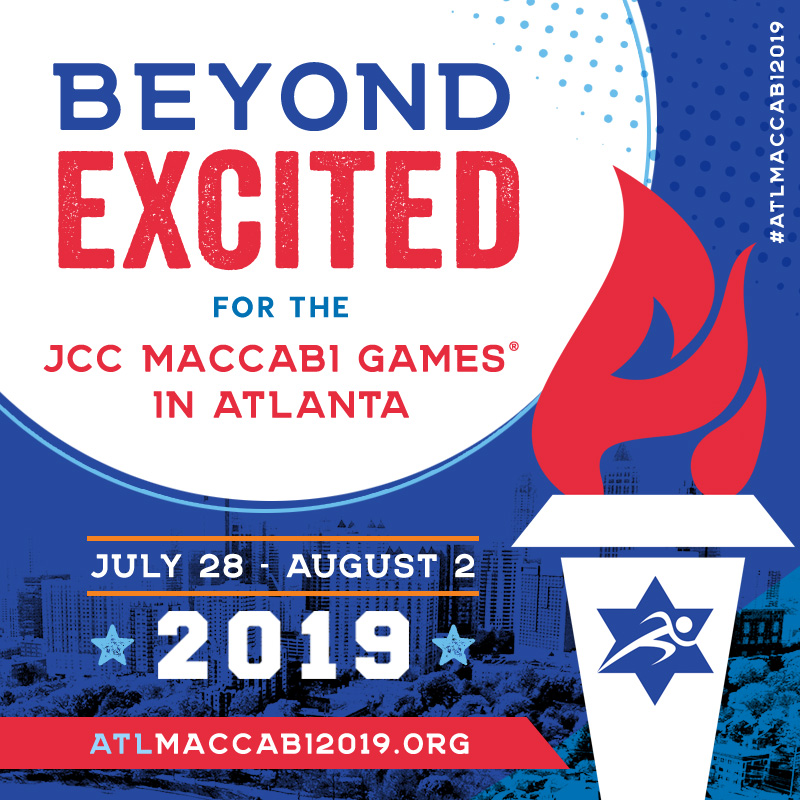 The Maccabi Games are a week filled with competition in a sport your teen loves, the excitement of meeting new friends from all over the world, helping others and discovering a rich Jewish world unlike anything they've ever experiences before. This Olympic-style sporting event for Jewish teens age 12-16 is held every summer. More than 2,500 athletes attend the competition, hosted by communities around the country, competing in team or individual sports and participating in social activities and social action projects.
The 2019 Maccabi Games will take place in Atlanta from July 28-August 2. 
Questions? Contact Becca Waller: bwaller@jewishlouisville.org or 502-238-2701. For more information about the Maccabi Games, visit http://www.jccmaccabigames.org.
Frequently Asked Questions
What are the JCC Maccabi Games? 
The JCC Maccabi Games are an international athletic competition for Jewish teenagers from North America, Israel, and the UK. The games are played with a focus on "Rachmanus" or sportsmanship with the intent to foster long-lasting memories and identification with Judaism and Israel. The Games also promote community involvement, teamwork, and pride in being Jewish. The Games are the largest Jewish teen event in the world; each summer over 6,000 Jewish teens participate. This year, the JCC Maccabi Games will be hosted by Atlanta, Georgia. At the Games, each athlete participates in one of fourteen sports, social events, and community service experiences, creating memories that will last a lifetime.
Who is eligible for Team Louisville at the JCC Maccabi Games?
Jewish teens between the ages of 12 and 16 are eligible to be a part of Team Louisville. All athletes and artists must be Jewish. In the athlete online registration, there is a declaration that contains the aforementioned eligibility requirements both the athlete and his/her parent must sign the declaration.
Who is eligible to compete in the JCC Maccabi Games?
Jewish teens between the ages of 12 and 16 are eligible to participate in the Maccabi Games. Athletes must be aged 12-16 years old as of July 31, 2019.
Where are the Games this year? What sports are offered?
The JCC Maccabi Games are being held in Atlanta, Georgia this year.
What sports are offered?
Team Sports include: Boys 14U Basketball, Boys 16U Basketball, Girls 16U Basketball, 14U Baseball, 16U Baseball, 16U Flag Football, 16U Ice Hockey, Boys 16U Lacrosse, Boys 14U Soccer, Boys 16U Soccer, Girls 16U Soccer, 16U Softball
Individual Sports Include: Dance, Star Reporter (sports journalism), Swimming, Tennis, Table Tennis, Track and Field.
What is a mixed team?
A mixed team is comprised of athletes from multiple delegations. This is fairly common and happens when a delegation does not have enough athletes to field a full team. Mixed team athletes still practice and identify as Team Louisville, but have the opportunity to be on a team with athletes from various cities and countries. Being on a mixed team can be challenging, but is also a great experience and can foster long lasting friendships with Jewish teens around the world. Don't underestimate mixed teams- last summer Team Louisville brought home several gold medals from an athlete on a mixed team!
What is the fee for Maccabi Games?
Our fee is $600. The fee for the JCC Maccabi Games is all inclusive. Program fees include: Games registration fees, travel/transportation, uniforms, and adult supervision and coaches.
A $200 non-refundable deposit is due with registration by March 8, 2019. The remaining $400 balance is due by May 1, 2019. Payment plan options are available.
Limited scholarship is available through the Jewish Foundation of Louisville. To apply for scholarship, please visit: https://jewishlouisville.org/federation/foundation/jewish-foundation-louisville-scholarships/scholarship-application/ Check off the  box "all camps approved by the foundation for Jewish camp.
Scholarship applications are due by March 8, 2019
Are there adult chaperones at the JCC Maccabi Games?
Of course! Team Louisville maintains a 1-8 staff to teen ratio. All staff are over 21 and have passed background checks.
Where do the teens stay?
All visiting Maccabi Games participants will be assigned a host family. Every Louisville teen will be in a house with at least one or two other Louisville participants. On your online registration, you can make roommate requests.
Can we come watch our teens compete?
Parents, family members, and friends are welcome to attend the Maccabi Games as spectators. If interested in attending as a spectator, please contact Becca Waller by April 1, 2019. Spectator pass rates will be released in early April.
Registration