Youth Enrichment Classes provide regularly scheduled, structured, and supervised activities for children outside of the regular school day. Our Enrichment Classes promote positive youth development and offer a variety of learning opportunities, including STEM programs, gross motor skill development, recreation, and social development.
Session 2 runs the week of September 30 through the week of November 4.
Snapology
Wednesdays
4:30-5:30 p.m. – Ages 4-8
5:45-6:45 p.m. – Ages 8-12
Fee: $85 Members, $95 Non-Members
Classes in the Patio Gallery.
Session 2: Wednesdays, October 2 – November 6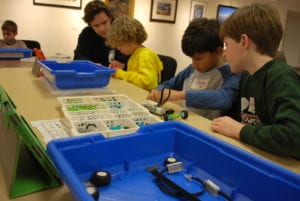 Chess Club
Thursdays
5:45 – 6:45 p.m. – Children grades 2 – 5
Fee: $85 Members, $100 Non-Members
New players always welcome! Learn chess basics and fundamentals, algebraic notation, rated tournament rules and regulations.  The participants will learn the 3 ways every chess player can grow, the 7 Deadly Tactics, and more from a certified chess coach. Opportunities for local and regional tournaments for members of the Chess Club. Classes in the Patio Gallery.
Taught by Coach Corbin Seavers, of the Urban Louisville Chess 
Session 2: Thursdays, October 3 – November 7
Ballet & More
Thursdays
4:30-5:30 p.m.  – Children ages 3-6
Fee:  $85 members, $100 non-members
Young dancers will learn to express themselves through movement. The class will focus on gross motor skills, balance, and coordination to help kids grow both physically and cognitively. Dancers are asked to wear clothes they can move in and be ready to have fun! Classes will be in the Dance Studio.
Taught by McKenzie Ricklefs, of the Bellarmine University Dance Team
Session 2: October 3 – November 7