The J Patio Gallery, located in the lobby of the Jewish Community Center, is the elegant setting for imaginative exhibits featuring the innovative artwork of locally, nationally and internationally recognized artists.
Patio Gallery Hours:
Monday-Thursday: 10 a.m.-8 p.m.
Friday-Sunday: 10 a.m.-5 p.m.
View some photos of our Patio Gallery:
---
The J PATIO GALLERY PRESENTS
12th annual mazin art exhibition
November 27 – January 3
Opening Reception November 27, 2-4 p.m.
The annual Mazin Art Exhibition was conceived and creatd by Bernice and Benjamin Mazin and the Jewish Community Center's Visual Arts Committee. The event is funded by the Mazin Visual Arts Fund and the Mazin family. It is a regional, juried art exhibition of 2D and 3D artwork, open to artists 18 years of age and older. Each year, the Mazin Art Exhibition fosters an appreciation of today's visual arts and reflects the breadth and artistic vision of local artists.
art and architecture of the Jewish Ghetto in Venice, Italy
by Rachel singel
January 8 – February 21, 2017
Opening Reception January 8, 2-4 p.m.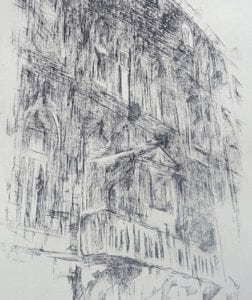 The year 2016 marks the 500th year since the establishment of the Jewish, Ghetto in Venice, the first ghetto ever in existence. To honor the historical anniversary and the influence this uniquely urban space has had on the development of contemporary architecture, Rachel Singel worked on-site in Venice for two months to create a series of etchings illustrating the buildings, structures, and streets of the Ghetto. These are in exhibitions both nationally and internationally so as to foster the Jewish heritage and guarantee its future as a key religious, cultural and artistic site open to the Jewish Community of Venice and all people worldwide.