We have chosen four amazing productions for our 2019-20 season. It's up to YOU to choose the 5th show!
To simplify many, many (many) hours of discussion and analysis:
We couldn't choose between these three amazing shows, so we want your help! You will find that, at first glance, they are completely different. They do, however, all offer strong stories and characters to make an unforgettable experience.
Voting ends at 4:00 p.m on Sunday, January 27, 2019.
Show will run January 9-26, 2020.
Read the descriptions and place your vote for your favorite!
25th ANNUAL PUTNAM COUNTY SPELLING BEE
Genre: COMEDY
PG-13
Watch these tweens (played by adult actors) disclose hilarious and touching stories from their home lives as they spell their way through a series of (potentially made-up) words. Pressure builds with that soul-crushing, pout-inducing, life un-affirming "ding" of the bell that signals a spelling mistake.
Characters that make you laugh out loud from start to finish will make this show not one to miss! A riotous ride and instant favorite among patrons, complete with audience participation! Winner of the Tony Award for Best Book.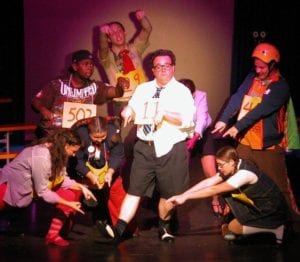 BIG RIVER
Genre: DRAMA/COMEDY
PG
Twain's timeless classic sweeps us down the mighty Mississippi! Irrepressible Huck Finn helps his friend Jim, a slave, escape to freedom at the mouth of the Ohio River. Their adventures along the way are hilarious, suspenseful and heartwarming. Based on the novel Adventures of Huckleberry Finn.
This show is a lesson in love, life and friendship. Propelled by an award winning score, this jaunty journey provides a brilliantly theatrical celebration of pure Americana. Winner of three Tony awards for Best Book, Best Musical, and Best Score.
THE BRIDGES OF MADISON COUNTY
Genre: DRAMA/ROMANCE
PG-13
The story follows Francesca Johnson, a beautiful Italian woman who married an American soldier to flee war-ravaged Italy. She is looking forward to a rare four days alone on her Iowa farm as her family heads to the 1965 State Fair. Her plans change when a ruggedly handsome photographer pulls into her driveway seeking directions. What happens in those four days may very well alter the course of Francesca's life.
Based on the best-selling novel, this musical captures the lyrical expanse of America's heartland. It also explores that eternal question: "What if…?" Winner of the 2014 Tony Award for Best Score and Orchestrations.
With a soaring score, The Bridges of Madison County is a touching and powerful addition to any theatre's season.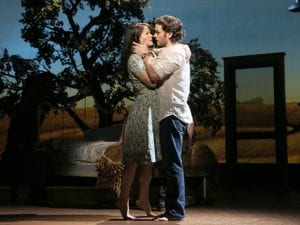 Vote Now: