CenterStage Academy is a youth theatre arts program specializing in quality training for the child performer – singing, acting, dancing. The kids will culminate their training in a performance at the end of the Academy while gaining real stage experience and learn what it takes to perform in a musical.
CenterStage Academy Players present Peter Pan Jr. 
Based on J.M. Barrie's classic tale, Peter Pan Jr. is one of the most beloved and frequently performed family favorites of all time. Peter and his mischievous fairy sidekick, Tinkerbell, visit the nursery of the Darling children late one night and, with a sprinkle of pixie dust, begin a magical journey across the stars that none of them will ever forget. In the adventure of a lifetime, the travelers come face to face with a ticking crocodile, a fierce Indian tribe, a band of bungling pirates and, of course, the villainous Captain Hook.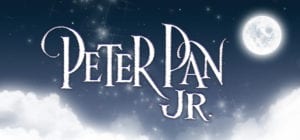 There are only 20 spots available. First come, first served. First payment is due at registration to hold your child's spot in the class.
October 13, 2019 – March 22, 2020
Grades 6-8
Rehearsals: Tuesdays 4:30-6:30 p.m., Sundays 3:45 – 5 p.m.
Non-Member: 2 payments of $380
Member: 2 payments of $365
First Payment due at registration. 2nd payment due January 31. No refunds.
Orientation:Sunday, October 13 at 3:45 p.m.
No Rehearsals on the following days: November 5, December 1, December 22, December 24, December 29, December 31, January 5, January 7.
Mandatory Tech Rehearsals: Week of March 15, Times TBA
Click here to make your second payment
PUBLIC PERFORMANCES
Thursday, March 12, 2020 at 7:30 p.m.
Saturday, March 14, 2020 at 7:30 p.m.
Sunday, March 15, 2020 at 2:00 p.m.
Tickets 
$10 children 10 and under; $15 adults