Weekly, June 4-August 10 | Camp Hours: 9 a.m.-4 p.m.
Minimum of two weeks of camp is recommended, but not required.
Join us for an unforgettable summer with Trek! Trek will include two field trips each week and overnights during Week 3, 6 and 9.
Daily Activities
Campers will participate in games and sports, dance, arts and crafts, science, nature, swimming, drama, Israeli culture, music and more!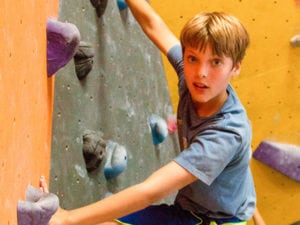 When field trips allow, all Trek campers will have free swim daily. Click here for more information.
Special Events & Dress-Up Days
Participate in a 4th of July Parade and barbecue, Maccabi Games and Color War, Talent Show and more. Each week will have a dress up day like the superhero of the week on Wednesdays. Funky Fridays will also have dress up themes including crazy sock, hair and hat days. Click here for a schedule.
Pricing
Trek at Camp J costs per week: $282, $255 The J Member, $276 The J Summer Member
Get Up Gang (morning) costs per week: $52, $38 The J Member, $44 The J Summer Member
Stay and Play (afternoon) costs per week: $82, $68 The J Member, $74 The J Summer Member
Click here to register online for Summer Camp
For more information, contact Katelyn Graves, Assistant Camp Director at 502-238-2774 or kgraves@jewishlouisville.org.