Instructional Swimming
All campers enrolled in Keff receive swimming lessons from The J Swim School. Campers learn to swim using the swim-float-swim technique. Lessons focus on water safety and survival skills and then move to the 4 basic swim strokes and skills. All lessons are supervised vigilantly by the lifeguards on duty as well as by the swim instructors and camp staff.
On their first day of camp, campers are evaluated and placed in levels for lessons.  30-minute group lessons are held five days a week. *  Campers are taught in small groups based on swimming skill and ability.
Free Swim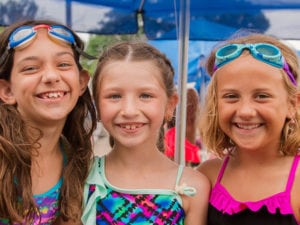 All campers will enjoy free swim five days a week*. Every camper is swim tested on their first day of camp and receives a wristband that designates the pool section they are permitted to swim in. Campers are supervised by certified lifeguards and camp staff during swim periods.
*Weather permitting. Occasionally special programming precludes regular swim period.
The J Gators Swim Team
The J's competitive swim team is a part of the Louisville Swim Association. Practice is 4 to 5 days per week depending on meet schedule. For more information contact Aquatics Director, Johnny Kimberlin at jkimberlin@jewishlouisville.org or 502-238-2742.
Swim team campers can be brought to swim team practice at 4:30 p.m. Tuesday through Friday by camp staff*. Campers will also be brought to home meets on Mondays as applicable. Please indicate swim team on camper pick-up form. Parents will need to pick up their children at the pool following practice. On Mondays, parents will need to pick up their campers if meet is scheduled away or there is no meet scheduled for that day.
*Practice schedules subject to change.