At Camp J, we work diligently year-round to plan camp programs that are not only well thought out and well planned, but also safe in every aspect from staff qualifications to emergency management.
Camp provides:
•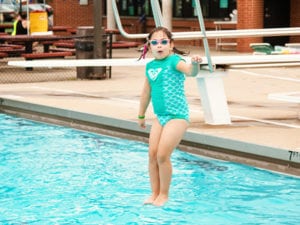 Healthy, developmentally appropriate activities and learning experiences
• Discovery through experiential education
• Caring, competent role models
• High staff to camper ratios
• Service to the community and the environment
• Opportunities for leadership and personal growth
The J is open and accessible to everyone regardless of age, race, religion, national origin, gender identity, sexual orientation or special need. Yachad is our inclusion program that offers campers with special needs and learning differences the opportunity to fully enjoy the Camp J experience.
FACILITY
The J is the perfect facility for your camper's summer camp experience, rain or shine. Our 30-acres include a softball field, soccer field, gaga pits and playground. The outdoor pool complex includes a nine-lane, 25-meter heated lap pool, a family pool with a diving well and the Seng Jewelers Wading Pool for our youngest swimmers. Camp's indoor space includes two full-sized gymnasiums, 2 auditoriums with theatre stages, indoor child-friendly activity spaces, a heated indoor pool and a full dance studio.
CAMP COUNSELORS
Our dedicated and responsible camp counselors are carefully vetted and selected for their skills, experience and interest in working with children. They receive extensive training prior to the summer and ongoing supervision during the summer to ensure they provide the highest quality care. They are trained in creative programming, group dynamics, child development, conflict resolution, safety procedures and more. Two Israeli Shlichim (counselors from Israel) will be at camp all summer infusing Israeli culture into Camp J.
MORNING & afternoon CIRCLE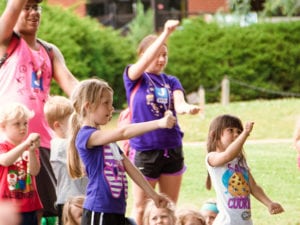 Every morning and afternoon all campers join under our camp tree for music, singing and dancing. These are special times in our camp day when all campers are participating together and celebrating the beginning and end of each camp day.
COMMUNITY GARDEN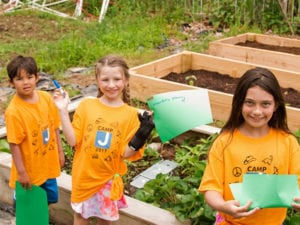 Our on-site garden provides hands-on experiences include watering, tending and picking fruits and vegetables. The campers learn how to grow and care for all the nutritional foods grown in the garden. The fruits and vegetables are enjoyed by our campers and also donated to the Fresh Stop Market.